De Lara and Amador have welcomed the FENAVIN cycling team at the Trade Fair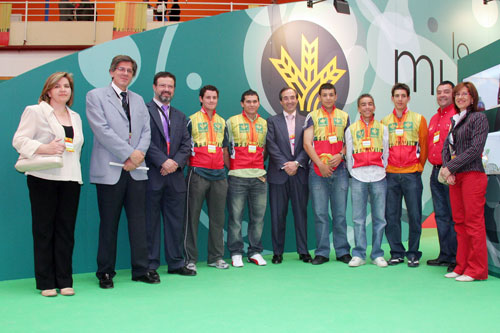 It has been fifteen years since there has been a cycling team with headquarters in the province's capital
08.05.2007 |
This morning the President of the National Trade Fair on Wine and the Institutional Coordinator, Nemesio de Lara and Ángel Amador, respectively, have welcomed the FENAVIN Junior Cycling Team at the Caja Rural Stand. The team is made up by seven young men and one young lady, all of them directed by Félix Rubio, who for years has had close connections with this sport.
"If you find that at first they don't believe in you -he commented with the young cyclists- not to worry, because I know that in the end all of us will believe in you". He also pointed out that FENAVIN is also an amateur in a sense, "because we're not perfect, although as can be seen we put all our efforts into improving the fair year after year". And he has stressed that at the beginning, when they first informed that they wanted to hold a National Trade Fair on Wine, "we were labeled as nuts", and "when they see all of you racing on the roads, for sure someone from the comfort of their car will also brand you as crazy lunatics".
The Provincial Government President has explained that FENAVIN is a consequence of team work, "and this is also the case with cycling, some help others, and others help one. When a team is organized as beautifully as Félix Rubio is doing so, we cannot consider this to be an individual sport", he specified, to then assert that the Provincial Government's support to the team "will be absolute, because we want this project to be a long-distance runner, not just a sprinter". Adding in this respect that "we are going to sow the seeds so that the FENAVIN Junior Cycling Team will be part of our lives for a long time, in particular because its been at least fifteen years since there has been a cycling team in Ciudad Real".