"GLOBALIZATION IN THE WORLD DOES NOT FOLLOW MORAL CODES, YET WE CANNOT STOP EVOLVING"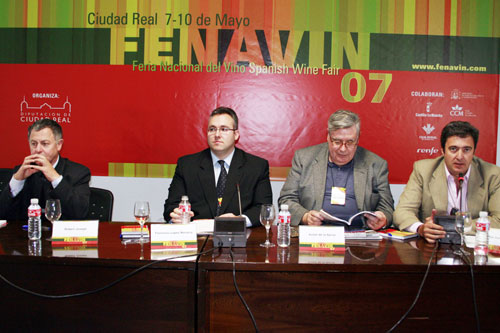 Robert Joseph participated with Víctor de la Serna and Florencio López Navarro in a round table in which their varied experiences were compared and the pros and cons of a global wine economy were analyzed in depth
08.05.2007 |
People love brands and Spanish wineries must be more aggressive in commercialization, as stated at the round table on the impact of globalization on the world of wine, held this morning at the 4th National Trade Fair on Wine, FENAVIN 2007, at which the prodigy of globalization in those aspects that directly concern the viticulture sector was analyzed.
Robert Joseph was in charge of opening the debate. He is the founder of the 'International Wine Challenge', one of the greatest and most prestigious wine contests in the world, in which the most outstanding experts in the sector evaluate about 9000 samples at each edition. He is also the author of more than 25 books, Editor in Chief of the magazine 'Wine Business International' and a regular writer for 'The Joseph Report'. His privileged position within a market as dynamic and open as the wine market in the United Kingdom has granted him with a broad and comprehensive overview of the phenomenon of globalization.
Robert Joseph is convinced that "globalization does not follow moral Codes", assuring that "wineries should be clear on the fact that they are not selling what they want to, but what people want to purchase, and we must walk hand-in-hand with the world's evolution, we must move with the times". He gave clear examples: "Carrefour sells 62% abroad, not in France, because it is quite aware of globalization".
This expert commented that "people love brands" and "in the world of wine it must be taken into consideration that distribution has changed, not only in the world of wine, but in everything, as even transport has changed".
Florencio López Navarro then commented that "quality would be marred if we were all to produce the same wines, thus the differential factor must be favored, as that is where the key to success lies". López is President of 'Quality Wines of Spain' (QWS), importer company, with headquarters in New York, of a select catalogue of more than fifty quality Spanish wines. Founded in 2003, the company currently distributes its products in more than 25 American markets. The magazine 'The Wine Advocate' places the company in the small group of "new importers that are marking tendencies and discovering (for the American market) fabulous wines that would otherwise go completely unnoticed".
López Navarro's experience in the United States leads him to stress "the tremendous importance of preserving the 'Spanish identity', in particular when referring to grape varietals and production methods. Selling Spanish wines made with French varietals is practically impossible. The American consumer does not understand Chardonnay or Cabernet Sauvignon and Spain in one same product. Apart from the fact that California, Australia and other countries have already standardized or drowned this market with 'French' grape wines". However, López Navarro asserts that if we talk about Tempranillo, Monastrell or Albariño, then we are dealing with a whole different ball game: "then we are talking quality, and there is excellent receptivity. Therefore, it is essential that this own identity that Spanish wines have be duly maintained".
Víctor de la Serna drew attention with his statement that "Spanish wines are losing market in comparison with Chilean and Australian wines". De la Serna is Deputy Director of the newspaper 'El Mundo', Gastronomy and Wine Chronicler in diverse publications (amongst them 'Decanter') and he is also a wine-grower and wine maker.
De la Serna, one of the most highly respected journalists in the Spanish wine scene, created 'Finca Sandoval' in the year 1998, a small winery in La Manchuela (Cuenca) that elaborates high quality wines, which obtain excellent scores both in Spain and abroad. Within the context of this round table, he mentioned that he is concerned "about globalization in the shape of the growing importance of a few multinationals that control increasing percentages of 'supermarket' wine in the world". He also stressed that "we must not forget that markets such as the American one represent 30 or 40 million wine consumers, therefore, that is exactly where we should be".
Along the line of the matter of globalization, Víctor de la Serna also mentioned that the similarity or uniformity that wine from numerous and different origins is suffering at certain levels disturbs him, as is likewise the case with the impact that opening of markets as extensive as Russia, China or India can have on wine.
Globalization has been defined as "a fundamentally economic process that consists in growing integration of different national economies in a unique worldwide capitalistic market". According to the Royal Academy dictionary, globalization is "the tendency of markets and companies to expand, reaching a worldwide dimension that surpasses national borders". Although, apart from its specifically mercantile component, the phenomenon also has profound social-cultural implications.
Wine understood as a business and as a culture in this context is not at all foreign to the globalizing current. The speakers at this round table - all enjoying ample and varied experience -analyzed the current situation of the global wine market in detail, from different perspectives, proposing the paths that in their opinion were the most recommendable for the future of Spanish wines in the 'global village'. Questions such as, should I continue making the same wine as always and try to sell it no matter what, or perhaps I should follow the guidelines of the so-called 'international consumer', all found an answer at the debate that took place at FENAVIN.