Jaume Font "the wine bottle simply cannot bear so many costs"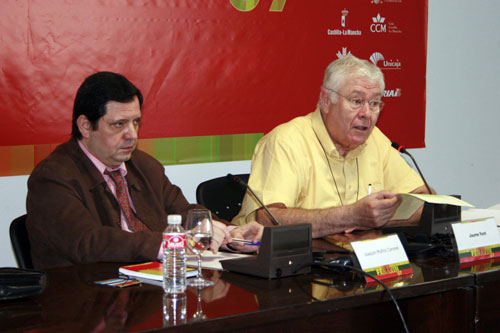 The Catalan Journalist has imparted a conference at FENAVIN on "Wine, Before, During and After Dining"
08.05.2007 |
"With all this information, dissemination and tasting courses, some with more luck than others, I am almost convinced that there are now more experts on wine than on football", thus the Catalan journalist specialized in wine and gastronomy, Jaime Font, has expressed himself. This morning he has been in charge of imparting a conference on "Wine, Before, During and After Dining", reflecting out loud on the act of eating and drinking, on the subtle art of combining and on the science that turns a biological need into a delight and pleasure for the senses.
Font has explained that it is logical that producers of wine are concerned with all that related with the vine, with obtaining good and varied wines, apart from all that related with the right to innovate and experiment with new varieties and with the search for new 'coupages'. That their wines will conquer markets and that consumers will learn to appreciate wine, spreading information and participating in tasting sessions. Specialized magazines and wine guides are always contributing to increasing knowledge about wine and likewise to the cult there currently is for enology and that trade fairs and congresses are essential instruments to make this product known and to do business.
"All this and more is not only logical, but also licit for the viticulture trade", he added, ' however, the wine bottle simply cannot bear so many costs added to what the new concepts in quality production and ageing and maturing are demanding".
The journalist has covered the situations that are taking place and that should not be happening when we sit down in a restaurant to delight in good dishes accompanied by a good wine. There are always certain difficulties involved when we have to decide on the wine that is to accompany a meal. Are we truly prepared to drink wines that cost more than 18 or 20 Euros a bottle, he asks himself out loud, in turn answering that he in fact is not prepared.
During the meal Jaume Font has highlighted that all the paraphernalia surrounding wine "is not allowing us to concentrate on and understand what we are eating". From his particular point of view he has indicated that wine should not hold prominence in a meal, it should not rest demerit from the raw material and the chef's work. "I personally believe that a sort of divorce exists between chefs and wine. Restaurants with a truly excellent Sommelier are few and far between", he said.
Moreover, after the meal, Font has pointed out that few restaurants take care of the desert wine list or of the wines that could accompany the after-dinner conversation. "After desert, although many people skip this course, we go directly to coffee, 'carrajillo' (liquor laced coffee), decaffeinated coffee with its machine variants, etc. and to the company of diverse distilled liquors, alone or combined", he stressed.
After this successful and in turn engaging exposition, this expert gastronomy analyst has underscored the media leading value of wine, of which everybody wants to be a part. "In view of this attitude we either let ourselves be led and go directly to promoting globalization with all it involves. Or we follow the dictates of those constantly harping on the matter, trying to convince us that the only thing that exists, the best of all, is what they are trying to raise to loftiness in the media", he punctuated.
Jaume Font is a Journalist and Gastronomy Analyst. He has presented the program 'Alacena' and the space 'Las Cosas del Comer' in the program 'Así Son Las Cosas', apart from the festivities and gastronomic portion of TVE's 'Corazón de…' program. He has also presented Catalonia TVE's cooking and gastronomy show 'Menjar Bé'; apart from being the program director of the weekly cooking show 'El Bon Gust' for Girona Television and many other radio programs in Girona. He has also written numerous articles related with gastronomy and cooking, which have been published in 'La Vanguardia', 'Correo Catalán' and 'Club de Gourmets' and 'Bouquet' magazines.