José Antonio Abellán, Paco García Caridad, Iñaki Cano and former football players Rafael Martín Vázquez and Fernando Hierro at FENAVIN-2007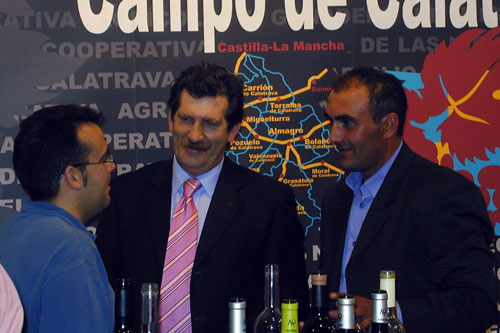 Participating in the round table "Wine and Sports: a healthy exercise" organized by ASAJA within the frame of the National Trade Fair on Wine
04.05.2007 |
José Antonio Abellán, Sports Director for the COPE Radio Station; Paco García Caridad, Sports Director for Radio Marca; Iñaki Cano, Sports Director of Onda Cero's program Al primer toque and former football players Rafael Martín Vázquez and Fernando Hierro will all be participating in the round table "Wine and Sports: a healthy exercise". The event will be moderated by Pedro Barato, National President of ASAJA, organization coordinating this activity within the frame of the National Trade Fair on Wine, that will take place from May 7th to the 10th at the Ciudad Real Trade Fair Pavilion.
Paco García Caridad assures "both sports and wine are healthy". The tendency of athletes in their sport is to better themselves and improve all the time, and in the viticulture world the vine-grower follows suit, always bettering themselves to obtain a good grape and therefore, a good wine. "Both sports and wine produce pleasure. Wine is normally enjoyed in a social context and sports normally involve team work", he says.
Moderate consumption of wine as part of an athlete's diet is beneficial for health. García Caridad ratifies what Endocrine Physicians specialized in dietetics and nutrition affirm. In fact he informs that "during the Tour de France, former cyclist Miguel Indurain used to consume a glass of wine with dinner. Foreign teams observed this behavior and as of that moment also started to introduce wine in the diet of their own cyclists".
The Sports Director for Marca Radio comments that trade fairs dedicated to the world of wine, such as FENAVIN, contribute to increasing consumption of wine and knowledge of the same. In addition, despite the fact that consumption of wine in our country has not actually increased, its quality has indeed increased and this is due to trade fairs such as these.
Many athletes, once their sports career was over, have dedicated themselves to the world of wine, "given that it is an excellent source of investment", finding examples of this in Manuel Sanchos, Emilio Butragueño or Míchel. Currently active athletes such as José Antonio García Calvo or Ronaldo are also partners in Ribera del Duero wineries. Fabio Capello, Real Madrid Coach is a connoisseur of Spanish wines and David Beckham has also shown interest in wine, given that he has visited Spanish wineries and has become acquainted with the elaboration techniques of wine right on-site.
FORMER FOOTBALL PLAYERS, PARTNERS OF A MANCHEGO WINE
Rafael Martín Vázquez, who will also be participating in this round table, along with former football players Manuel Sanchís, Emilio Butragueño, José Miguel González Míchel and Aitor Karankade and other professionals from the world of wine, are all partners of the wine company 14 Viñas, which elaborates Casa Lobos, a red Manchego wine, under the technical direction of the Enologist Ignacio de Miguel. Martín Vázquez got involved in this adventure "because all of us adore wine and we want to back up this project and see this wine offered on the restaurant menus".
The former football player comments, "when I hear about wine the first thing that comes to my mind is the word health, of course, always consumed in moderation and in its correct amount. I consider it complementary to a meal and as a normal part of daily life". He also comments that already when he was professionally active he enjoyed an occasional glass of wine. "There is no doubt that wine included in an athlete's diet is healthy", he asserts.
Iñaki Cano, Sports Director of Onda Cero's program Al primer toque, says "wine is normally part of team celebrations in many different sports. And of course Cava is also used for toasting, although I much prefer a good wine", he adds.
Wine is beneficial for an athlete's health. "Doctors are quite clear on this fact. Wine is healthy and educational", ratifies Iñaki Cano, who also participated at FENAVIN-2005 during a tasting session hosted by the Ciudad Real Campo de Calatrava Association. He assures that "FENAVIN is an educational and illustrative trade fair, at which all sorts of different wines can be tasted".