Wine and Manchego tapas express their harmonious balance at FENAVIN 2007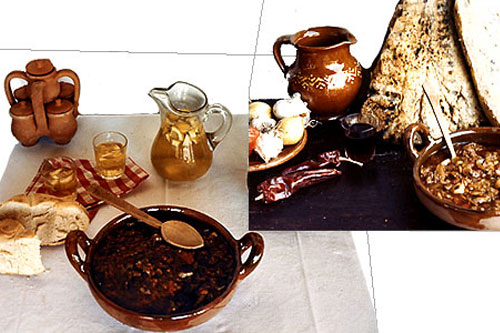 At a tasting chat-encounter in which the audience can intervene with their opinions
05.05.2007 |
This commented tasting session on the delicate harmonious balance that exists between wines from the Castilian-Manchego region and the region's most typical tapas will be held within the frame of Fenavin 2007 National Trade Fair on Wine that will take place from May 7th to the 10th at the Ciudad Real Trade Fair grounds-.
Both the Manchego gastronomy tradition and the viticulture tradition date from many centuries ago. Thus it is not unusual that they have evolved together to reach the quality levels that currently characterize both, and that this has taken place with their mutual support.
There is quite probably no better scenario to be found to make this combination of wines and plates manifest than the National Trade Fair on Wine. Therefore, one of the activities that has been programmed for this Trade Fair is a tasting chat-encounter during which different wines will be tasted accompanied by delicious dishes in the shape of a tapa, and all this in an informal and relaxed ambience.
'Hostelería Huertas' will be the company in charge of preparing and serving the exquisite individual dishes of 'Deer Filet in its own Juices', 'Tiny Pots of Manchego Simmered Vegetables with Lean Pork Bites', 'Tiny Pots of Roasted Delights', 'Tiny Pots of Tiznao' and 'Game Pâtés'.
These true 'delicatessen' tidbits of the traditional Manchego gastronomy will prove their capacity to harmonize with wines as outstanding and overflowing with personality as 'Gran Reserva Cabernet' (Señorío de Guadianeja), 'Reserva Tempranillo' (Viña Cuerva), 'Coupage 50-50' (Pago del Vicario) and 'Baldor Tradición Syrah' (Castiblanque Wineries and Vineyards). A representative - yet inevitably limited - sampling of Castilla-La Mancha's current quality viniculture production.
With the mission of commenting the different combinations and handling the opinions and questions of the audience, the table of lecturers will be integrated by Teofilo Arribas (President of the Provincial Corporate Hotel, Restaurant and Tourism Association of Ciudad Real), Alfonso Monsalve (President of the Viniculture Associations), Joaquín Muñoz Coronol (Journalist), Javier Huertas ('Hostelería Huertas') and Juan de Dios Hueso (National President of the Association of Former Students of Restaurant Colleges).