The role of Restaurant Professionals under debate at FENAVIN 2007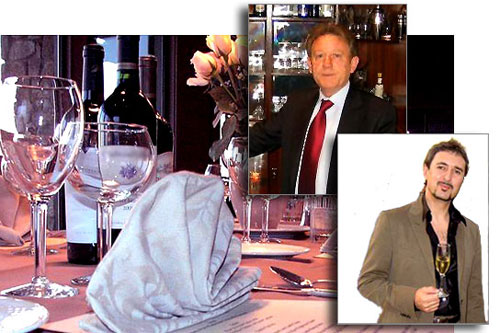 A controversial matter, with a multitude of variables, which will be analyzed at an interesting round table
04.05.2007 |
Mariano Castellanos, President of the National Federation of Hall Master Professionals, will be the moderator of this debate, to be hosted at FENAVIN 2007, trade fair to take place from May 7th to the 10th at the Ciudad Real Trade Fair Pavilion.
José María Pérez Pascual will be one of the speakers. Technical Restaurant Professional, Pérez Pascual counts with extensive experience in the world of Hall Master Professionals. Apart from writing the book Hosteleria: Técnicas y Calidad de Servicio (Hotel and Restaurant Service: Techniques and Service Quality) and of being the author of academic programs that are used in Professional Training, as well as of diverse manuals and monographic courses. He is also a collaborator at the Universidad Rey Juan Carlos College of Tourism, Advisor for several sector companies and he continues to exercise his role as Professor.
During the debate, Pérez Pascual will attempt to provide a general view of the Restaurant Professionals' competence, speaking on the multitude of knowledge that is necessary to offer quality service. In his opinion, the current crisis experienced in the sector is caused by the slackness of many employers and on the lack of attention that the administrations have towards this professional collective.
However, much responsibility can also be attributed to the scarcity of restaurant workers with a general view of all the productive processes intervening in their task. A qualified hall professional must dominate a multitude of tasks, far beyond those that are obvious in any restaurant. For Pérez Pascual the task is similar to that of an orchestra director: "The restaurant professional must have absolute and in-depth knowledge of 'the score', of the characteristics of each one of the 'musicians' and their 'instruments' and, finally, the professional must be capable of insuring that all this works together in absolute harmony".
Francisco Patón, Director of Food and Drinks at the Hotel Villa Real and Hotel Urban will be contributing to the debate with another approach. For Patón - professional who has received numerous awards and recognitions, amongst them several at the different Madrid Fusión events- the problem is mainly one of image: "Naturally, neither the institutions nor the press are very concerned about this noble and complex profession. Because, as you see 'Spain is a country of waiters'. Apparently anybody at all can be a waiter, and this is nowhere near the truth".
After starting in the profession from the very bottom and after having covered each one of the professional stages, Patón knows exactly what he is talking about: "This profession is not for everybody. The idea is not merely reduced to learning a series of techniques and then putting them into practice. There is much psychology and much sensitivity involved in this, and one has to acquire an overwhelming amount of experience". "The clients we serve - he continues - come to be happy, to have a pleasant time. And our work consists precisely in that, to put ourselves in their place, to always sense what is most adequate in each case and to insure that we offer a service that is fully satisfactory to our clients".