"Wine must be socialized and popularized amongst the younger generation and controversies such as those just recently arising should be avoided"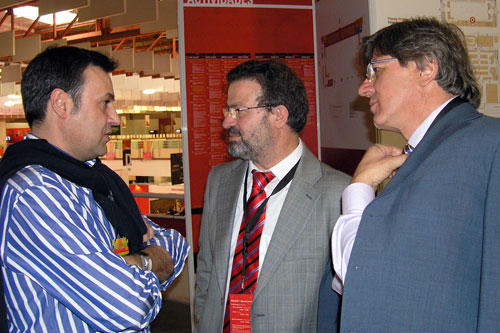 Journalist José Ribagorda, at the round table "A Matter of Noses", directed by Lorenzo Díaz, along with Custodio Zamarra, Ignacio de Miguel, Kasia Romanska and Mónica Muñoz
07.05.2007 |
The Sociologist, Journalist and Writer Lorenzo Díaz has been in charge of coordinating the round table "A Matter of Noses", at which a diversity of enhancing points of view have been provided, as is the case with Custodio Zamarra, Sommelier at the Zalacaín Restaurant in Madrid; José Ribagorda, Head of Weekend Information Services for Tele 5; Mónica Muñoz, Chief in Editor of "Mercados del Vino y la Distribución"; Ignacio de Miguel, Enologist; and Kasia Romanska, Sommelier. Ribagorda champions enlightening and socializing the younger generation in matters related with wine, underscoring that controversies such as those recently confronting the sector with the central Government due to the Anti-alcohol Law should be avoided.
Díaz has opened the table by explaining that the most important revolution recorded in recent times is to be found in the kitchen and in wines. In the opinion of this expert, evolution in consumption and production of wines in the last few decades has been of great relevance, as is corroborated by Mónica Muñoz, first guest to participate.
In Muñoz's opinion, the global market does not wait for markets to be prepared, and thus the step "from the Valdepeñas "frasca" (Typical glass bottle used to serve small glasses of wine) to other wines with greater projection was simply part of natural evolution", the same due to an increase in the consumer's culture. According to the Editor in Chief of "Mercados del Vino y la Distribución" evolution depends on the consumer evolving and exacts that the producers follow suit.
Custodio Zamarra, "Manchego-born and exercising as such in the capital" and "Approachable Sommelier that is far removed from schmaltzy sentimentalism", as Lorenzo Díaz has defined him, has testified to the tremendous change experienced in the consumer's demand for wines during the last 35 years. In that pertaining to the frame within which the round table took place, he assures that Fenavin "has positioned itself as one of the most important trade fairs in the world. Not only due to its organization, but also to the number and quality of participating wineries, as well as because of the number of possibilities it offers to the same".
In response to a quick test that Díaz subjected him to, the distinguished Sommelier was convinced that "if a selection was to be made of the best hundred wines in the world, there is no doubt whatsoever that at least 25 of them would be Spanish". He also provided a few pointers about what a wine with great personality actually is, in which the 'terroir' of origin and the Enologist's creative capacity predominates, etc.
When talking about Fenavin, Ignacio de Miguel explained that he is very pleased to participate in activities related with the trade fair, as in his opinion these types of events offer other possibilities, independently of the importance of wineries attracting purchasers that will pave the way to opening new markets. According to the Enologist, the interesting thing at Fenavin is that it is a trade fair "that just gets better and better" year after year.
In De Miguel's opinion wines are now much better, because we are looking more towards the soil, and he emphasized on the market, "we want to continue selling the way we used to, yet the consumer has changed", while in turn he is absolutely convinced that "there are very good Manchego wines at marvelous prices".
For Kasia Romanska, "doted with an extraordinary sense of smell" as said by Lorenzo Díaz, "evolution of wine in Spain has been so fast that it has caught us by surprise". She is absolutely convinced that the best wine reviewer is in fact the consumer, "the one who pays".
José Ribagorda praised the good wines that many Castilian-Manchego restaurants are serving, such as La Aguzadera de Valdepeñas. He referred to "the tremendous eagerness and thirst that all of us born in the sixties, or under the age of fifty, have for all that is modern, sometimes to the point of scorning that which is traditional", possibly because "we are young and restless and we like novelties, wines with more aromas and perhaps with less body".
The television journalist also commented that disagreements between the viticulture sector and the government must be overcome so that "wine will not be reason for controversy and so that it will not be unjustly treated", why and wherefore he is bent on favoring the culture of wine from the window represented by his news slot: "quality wine must be popularized and socialized, as is the case with some Madrid taverns, where combinations are carefully considered and which are overflowing with young people under the age of thirty".
He also asked himself "in that referring to wine, why do we sell ourselves so short in this country?", with a clear description of his concerns: "I traveled to Vietnam and literally gorged on Chilean wine".
Mónica Muñoz defended more self-esteem in the sector. "In Spain I consider that we do not believe in what we do and the truth is that we make fine wines, creative and original wines… we must start rewriting the books and really believe in ourselves".