Great possibilities and opportunities await Spanish exporters on the Japanese market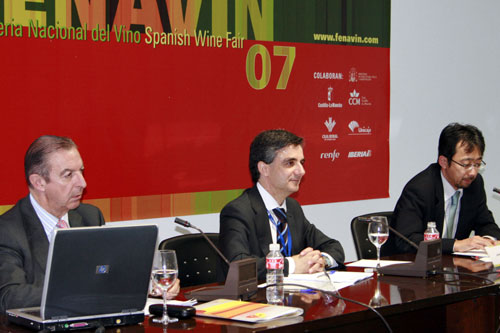 The important profit margin and great attraction felt by the country towards the Spanish culture are some of the advantages that will help us penetrate the Japanese market
07.05.2007 |
Great possibilities await Spanish exporters on the Japanese market thanks to the important profit margin and great attraction that the Japanese country feels towards the Spanish culture, as has been asserted by Takatomo Tozuda, Director General of JETRO in Madrid and Ignacio Blanco, Director of Economic Studies at the same institution while they were visiting Fenavin 2007.
Tozuda as representative of JETRO (Japan External Trade Organization) considers the current moment as the best possible moment to start business between Spain and Japan, thus profiting from the economic expansion experienced by both countries and from the existence of common cultural interests. Spain is one of the preferential destinations for the Japanese, and it also represents a clear rapprochement towards European Union countries in that pertaining to trade, while in turn representing support for Spanish exporters to penetrate the Japanese market and take the leap to other Asian countries.
Blanco is of the opinion that, "once the main problems encountered by exporters interested in Japan have been figured out, such as confronting the lengthy processes of decision that are involved due to the prevailing hierarchical structures that exist in Japanese companies, the potential of the Spanish exporters is truly high". He then continued saying, "it is an attractive market because it is undergoing constant growth and likewise because of the fidelity shown by its clients in commercial relationships that have taken place to date".
As commented by Blanco, "Japanese love to receive visits from Spain, a country that they are very attracted to. According to the experience of some entrepreneurs that already hold commercial relationships with Japan, if penetrating this market is difficult, once inside it is even more difficult to leave given their fidelity and the level of seriousness with which the country works". According to the IPEX during 2006 exports of Castilian-Manchego wines to Japan amounted to 1.68 million Euros, a figure that in the opinion of the lecturers represents a wonderful incentive for Spanish wineries that are still doubtful about positioning themselves in this Far East country.
JETRO is a governmental institution, mission of which is to promote trade and investment between Japan and the rest of the world, with the objective of facilitating foreign investment in the Japanese country and helping small and medium sized Japanese companies to maximize their exporting capacity. It counts with 73 offices in 55 countries for said mission.
After revising elaboration of wines in Japan itself, the conference focused on the current state of importing and its more pronounced tendencies - as well as on distribution channels -, emphasizing the legal requirements (health, tax, labeling…) that are exacted to penetrate the Japanese market.
The conference concluded with Ignacio Blanco's explanation on the support that JETRO is prepared to provide to those interested in exporting their wines to Japan, the same in the shape of advice and practical recommendations to fluidly develop commercial relationships between both countries, countries that mutually admire and respect each other, although with cultures that are indeed very different.