Breakdown of Unión Fenosa's circuit breaker has left FENAVIN without lighting during 18 minutes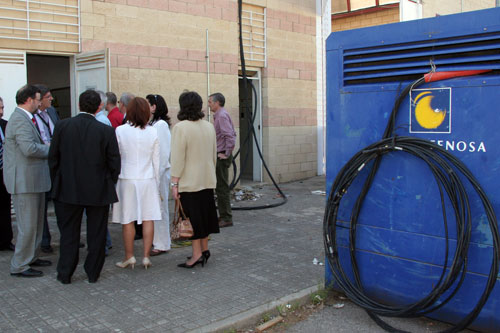 De Lara and Amador have closely monitored its repair
07.05.2007 |
This afternoon the National Trade Fair on Wine has endured a power outage that has gone on for 18 minutes, the same caused by a breakdown in Unión Fenosa's transformer circuit breaker. The power failure has affected all seven of FENAVIN's pavilions, the same between 17:25 and 17:43 hours.
The President and Institutional Coordinator of the National Trade Fair on Wine, Nemesio de Lara and Ángel Amador, respectively, have both closely monitored the works that Unión Fenosa's repair personnel and the Provincial Government's Public Works services have executed on-site, the same with the aim of obtaining first hand information about the causes of the outage. The swiftness in actions has allowed activity to restart within a very reasonable period of time.
The generator that Unión Fenosa uses to provide the Homero Pavilion with air-conditioning has also failed.