Luis Antonio de Villena: "wine has always been a synonym of joy"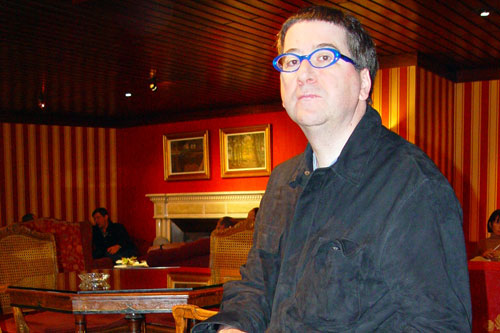 The Madrid born poet will be speaking about The Memory of Wine, along with Gabriel Planella and the Journalist Nuria Ribó at the National Trade Fair on Wine, that will take place from May 7th to the 10th at the Ciudad Real Trade Fair Pavilion
30.04.2007 |
The Poet, Essayist and Literary Reviewer, Luis Antonio de Villena, the Poet and Deputy Director General of the Book on the Regional Government of Catalonia, Gabriel Planella and the Journalist, Nuria Ribó, under the coordination of the Writer, Dionisio Cañas, will be lecturing on The Memory of Wine. This event will take place within the frame of the National Trade Fair on Wine, FENAVIN 2007, from May 7th to the 10th at the Ciudad Real Trade Fair Pavilion.
According to the Poet Luis Antonio de Villena, wine is "the joy of living". Wine has always been synonymous of joy, of pleasure, an important element given that already in the Greek world it was cultivated", he assures. Villena will be delivering a brief summary on literature and wine during the round table-chat The Memory of Wine to be held at FENAVIN-2007.
The Madrid born Poet will be reviewing his long journey between the world of wine and literature. "Wine has always represented joy and pleasure", he repeats. "Towards the end of the 19th century wine was considered to be a negative thing, given that it used to be mixed with other alcoholic drinks. In this sense a series of contradictory aspects arose", he comments.
"We must remember that wine was already mentioned in the Bible, the same from a Semitic origin. And in the western world we have been speaking about wine since Greek times", he explains. Wine has held decisive importance in the configuration of the social-cultural mentalities and values that we witness for the first time in Classic Greece, and which have endured until current days.
In spite of everything, even in the Arab world there is literature to be found. Despite the fact that wine has always been forbidden to Muslims, there was talk about wine. In fact the Poet has even written a few Arab verses about wine (And then of you I thought, Abu Nuwás, poet, drinker and libertine (they say), lover of the unforgiving beauty of adolescence, of verses and faultless taverns).
Much has been written about wine according to Villena. "Sometimes even too much. We must distinguish between wine literature (about wine itself) and allusions or references made to wine in literature. Two very different paths. Much has been said in the European medieval world, in the Roman and Greek world, in which wine was more differentiated in the latter two periods than it was in the medieval world. In fact a very fine wine was produced in Rome, which was known as falerno", he tells us.
The Poet, regular consumer of wine with his meals, asserts, "wine always requires a touch of control. Although the prohibitionist eagerness should be avoided. We should not forbid its consumption, but in fact we should educate the consumer. Consumption of wine should be stipulated. Prohibition is never a solution".
DOCTOR HONORIS CAUSA
Luis Antonio de Villena has received the National Critics Award (1981) -poetry- the Azorín Novel Award (1995), the City of Melilla International Poetry Award (1997), the Sonrisa Vertical Award for Erotic Narrations (1999) and the International Generation of 27 Poetry Award (2004). He is also Doctor Honoris Causa by the University of Lille (France).
Since 1973 he has written and continues to write opinion articles and literary reviews in various Spanish newspapers. He collaborates in numerous television programs and in particular in radio shows. He currently collaborates with El Mundo, El Periódico de Cataluña and the supplement "Babelia" pertaining to El País. He has made different translations, young poetry anthologies and review editions.
WINE IS A THEMATIC INGREDIENT OF MOST LITERARY WORKS
The Poet and Deputy Director General of the Book on the Regional Government of Catalonia, Gabriel Planella assures that "in Spain there is a specialized media in quality wine, in particular when dealing with written press. On the other hand, in audiovisual means there is much talk about cooking, although hardly any about the world of wine, and we forget that one added to the other form a tandem that is impossible to separate".
He likewise assures that "despite the fact that wine does not hold the starring role, except occasionally, wine is indeed a thematic ingredient in most literary works. This is indeed true of western literature, from its very beginnings. Greek and classic Latin writers are paradigmatic of this".
Planella asserts that "more than enough has been written on wine for it to already be a tangible reality. Without a doubt it will continue to be present in novels, poetry, theatre and essays. Wine is part of our daily life in the western world and literature is always a reflection of this reality".
He is also of the opinion that "books tell us that wine is a substantial part of life on planet earth. Whether books contribute to spreading the wine culture or not will depend on how each author treats the matter".
José Manuel Caballero Bonald in his Brevario del Vino says that "to talk about wine is to follow in Man's footsteps. Wine is drink, myth, metaphor and industry, and to recreate its history means to trace a complete and suggestive biography of the human species. The Deputy Director General of the Book on the Regional Government of Catalonia is completely in agreement in this sense, given that "through wine one can follow the history of humanity".