Emilio Gutiérrez Caba: "Wine is reason for much joy and satisfaction"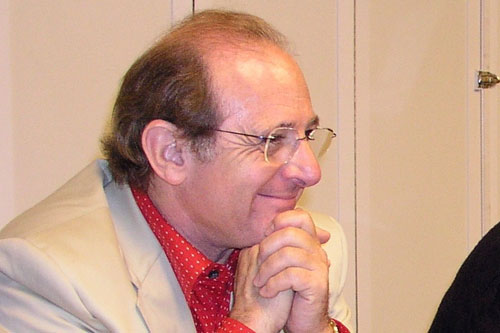 The theatre actor will be reciting El Alma del Vino (The Soul of Wine) by Manuel Juliá, along with the actors Concha Cuetos, Mª José Goyanes and José Mª Arcos at FENAVIN-2007
20.04.2007 |
Actors Emilio Gutiérrez Caba, Concha Cuetos, Mª José Goyanes and José Mª Arcos will be reciting El Alma del Vino by Manuel Juliá. This event will take place at the Assembly Hall in the Ciudad Real Trade Fair Pavilion on the upcoming May 8th within the frame of FENAVIN-2007, National Trade Fair on Wine from May 7th to the 10th.
The Alma del Vino, recital written by FENAVIN's Director Manuel Juliá, is a recited journey through the sojourns of wine in history, ranging from Cervantes right through to the stopovers where the great sages, the great poets, have spoken on wine. The selection of texts and authors included in the recital "are more related with the emotional impact that they caused in me than with any other academic type of consideration", says Juliá in the prologue to the writ.
The idea behind the Alma del Vino is that the audience (who will be invited to a glass of wine) "can travel in time and feel that what we call the culture of wine is somehow sustained in a historical manner, in humankind's logical aspiration to happiness…"
In this sense the theatre actor Emilio Gutiérrez Caba comments, "we come from a culture of wine. Moreover, it is from this culture that a good part of civilization arises. Already in Greek times wine was used to lose one's inhibitions". He also believes that wine brings joy to the heart of man, "although, of course, when enjoyed in moderation".
The actor assures that wine is a synonym for joy. Insisting, "wine is reason for joy and satisfaction, always taking into account that there is a point in which sobriety must be maintained". He also manifests, "wine allows one to forget life's grievances in the measure that it increases joy. Wine conceals grievances, yet if drunk in excess it heightens them".
The Valladolid born actor considers that in literature much has been written about the soul of wine in particular and about wine in general. "Wine already appears in the Bible and in all classical literature, in French literature, Italian, etc. It is an element that reflects everyday affairs".
In theatre plays this has been likewise the case, with much written about wine, in particular in classical Spanish theatre. "The theatre speaks of wine and of its virtues. It is habitual as an element for toasting and as a plot line between the different characters in a play", he explains. Wine is mentioned in many other plays as well, such as El Buscador de Sevilla y Convidado de Piedra (The Beguiler from Seville and the Stone Guest) by Tirso de Molina or in Don Juan Tenorio by José Zorilla.
WINES OF THE CINEMA
Likewise in the world of cinema many references have been made to wine, for example in Casablanca in which Humphrey Bogart uncorks a bottle of champagne, fills the glasses and says "We'll always have Paris… Now, now… here's looking at you kid".
In fact, the actor has even written a book on cinema and wine, Vinos de cine. It has been traditionally considered that perfect pairing of wine and food exists. However, Emilio Gutiérrez Caba puts forward a daring recreation of this gastronomic harmony.
"Endorsed by specialists from the most prestigious of Spanish wineries, the author of this very original book proposes pairing 31 interpretations by his favorite actors with 31 wines, daring nature of which, with their own style, fresh, intense, sensual, subtle or magnetic-bring to mind the nature of the character.
The voluptuous maturity of Marlene Dietrich en Shanghai Express leads us to the mystery of the late-ripening harvests in Waltraud; Emma Suárez's tremendous display of seductive charm in El Perro del Hortelano; Singing in the Rain is reflected in the brilliance of the Barón de Chirel Reserva.
Wine and cinema: two passions, two paths to recreate unforgettable emotions, two arts that in our palate and retina leave behind the aroma of the experiences that have enriched our lives". (Vinos de cine, Emilio Gutiérrez Caba, Ediciones Martínez Roca, S.A. 2002).
GUTIÉRREZ CABA, TRUE TO FENAVIN
This is certainly not the first time that the star of La Mujer de Negro, theatre play that is currently performed at the Teatro Infanta Isabel in Madrid, participates at FENAVIN. Already in its 2nd edition he was present in the forum on "Wine and Cinema. Twenty Thousand Leagues Around Wine", at which the writer Fernando Sánchez Dragó was also present; along with the musician and composer Luis Eduardo Aute and the actor Carlos Villarrubia. Gutiérrez Caba believes that trade fairs such as FENAVIN "are of utmost importance to acquire enlightenment about wines, useful knowledge for both those who create wine and for those who consume it".
On his part the actor José Mª Arcos, who also visited FENAVIN and ESPAÑA ORIGINAL (participating with a poetry recital in the latter, Clásicos a pedir de boca, in the company of Mª Fernando D'Ocón and Ramón Langa), mentions, "FENAVIN is a trade fair that represents an absolute reference, both on a national and European level. It has been consolidated in leaps and bounds. This trade fair is extremely well prepared and accomplished".
Arcos is also of the belief that wine is a synonym of joy. "If wine is to make any sense, this is precisely it, otherwise it would be impossible to justify its overwhelming presence in literature. To be exact its most important trait is its cultural aspect, thus the reason for all the allusions made to the anecdote that refers to the drinking of wine". Moreover, he adds that wine brings joy to man's heart because "it is one of the ingredients that life puts before us to obtain joy, obviously in the necessary dosages Wine is joy, even for those who are not great lovers of wine. Indeed, wine is actually a healthy medicine".
He also agrees with the fact that much has been written about wine, although "a great book on wine, a book on the anthology of wine is still sadly lacking". On the other hand he considers that in the world of cinema not much has been written about wine. "It has never really been central in the movies. However, just recently we have seen a few examples such as Entre copas (Sideways)".
In the recital El Alma del Vino it is said that "women have increased capacity to capture the aromas and flavors of wine; their sensitivity and sensuality is ready to capture the soul of wine". José Mª Arcos is in absolute agreement in this respect. "And not only limited to wine", he adds.