Moderate consumption of wine as part of the diet is healthy for athletes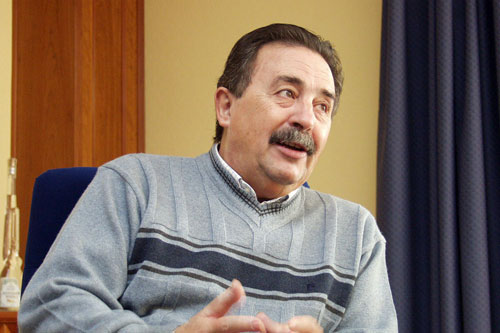 FENAVIN 2007 will be hosting the round table "Wine and Sports", coordinated by Juan de Dios Román and with the participation of Luis Aragonés, Pepu Hernández, Sergio Sauca, Talant Dujshebaev and Miguel Ángel Bufalá
17.04.2007 |
The National Trade Fair on Wine, FENAVIN 2007 that will take place from May 7th to the 10th at the Ciudad Real Trade Fair Pavilion, will be hosting the round table "Wine and Sports", coordinated by former National Handball Coach Juan de Dios Román, and in which Luis Aragónes, National Football Coach, will also be participating; along with Pepu Hernández, National Basketball Coach; Talant Dujshebaev, Ciudad Real Handball Coach-Player; Sergio Sauca, sports journalist and Miguel Ángel Bufalá, sports physician.
All of them are unanimous in the opinion that moderate consumption of wine in the diet is healthy for athletes. Juan de Dios Román explains, "some football, basketball and handball teams allow their players to drink wine with their meals, even when on pre-match preparation. The question actually resides in the limit. One or two glasses of wine may be beneficial for all athletes".
Sergio Sauca, sports journalist, likewise ratifies this affirmation. "The existing relationship between wine and sports is certainly not incompatible. Moderate consumption of wine is beneficial for elite athletes". In fact Sauca is himself a great lover of wine and a compulsive reader of themes related with wine. Sauca recalls that during the last FENAVIN trade fair it was commented that "well-known athletes such as Martín Fiz complete their very strict diet (salads, grilled meat and boiled fish) with a glass of wine at lunch and another at dinner, the same under the recommendation of a physician".
In fact, the basketball player Talant Dujshebaev tells us that when he arrived in Spain in the decade of the nineties "the doctor recommended that I should have a glass of red wine every night before going to sleep, given that I had a few minor cardiovascular problems at the time. Therefore, I drank wine for two months as if it was medicine. And as of that point I not only improved, but I also became interested in the world of wine". Currently Dujshebaev enjoys two glasses of wine a week, one on weekends and the other during the week.
The players of the Ciudad Real Handball Team, in the company of their former coach Juan de Dios Román, visited the 3rd edition of the National Trade Fair on Wine, FENAVIN 2005, starting their visit at the Pago del Vicario winery and then continuing with their visit throughout the remaining pavilions.
FENAVIN, AN ATTRACTIVE AND HIGHLY WORTHY TRADE FAIR
According to the former National Handball Coach and current Director of the Ciudad Real Handball Foundation, he defines FENAVIN as "a tremendously attractive trade fair that not only makes the product known, but also its evolution in the national and international markets.
In the opinion of the sports journalist "FENAVIN is highly worthy, as it parted from zero and yet it is enjoying great repercussion, in particular for Castilla-La Mancha wines, region that is experiencing an important boom on the national market".
Dujshebaev considers that FENAVIN is a trade fair in which new products can be made known, "products that as a consumer he was unaware of. Normally only wines from La Rioja and Ribera del Duero are well-known. Thus FENAVIN represents a wonderful opportunity to become better acquainted with the world of wine".
"WINE IS IN FASHION"
A transformation has taken place in the viticulture industry in the last few years, currently representing a magnet that attracts more and more idols from the most popular sport in the world, to the point that some are even daring enough to launch their own line or loan their name to baptize a new brand. Examples of this are former football players Manuel Sanchís, Emilio Butragueño, José Miguel González Míchel, and even the tennis player Pato Clavet.
According to Juan de Dios Román this is because "when an athlete reaches the end of their sports life, they normally decide to enter the business world. And specifically investing in wine is interesting, given that it also has an important component related with culture, leisure and free time". The figure of the young entrepreneur is also contributing to investments in these type of actions, as is likewise the case with the tendency to move out into the country and leave the city behind.
In this sense Sauca assures that "wine is in fashion. This is a sector that is attracting many people, a sector that brings one into direct contact with nature. And for lovers of wine it is even a good business".
According to the current Ciudad Real Handball Coach "wine is an excellent lure and athletes are profiting from their name to become involved in the world of wine and make certain wines known to all. This is a good possibility to improve consumption of wine".