The Wine Gallery at FENAVIN 2007 will place 1000 brands at the disposal of the professionals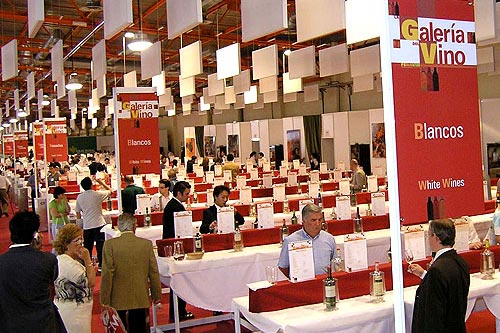 1500 square meters at the Dionisos Pavilion will be holding this impressive collection
10.04.2007 |
In perfect order and under ideal temperature conditions, up to a thousand brands of wine will be ready and waiting to be tasted by the professionals visiting FENAVIN 2007, trade fair that will take place between May 7th and 10th at the Ciudad Real Trade Fair Pavilion.
This Wine Gallery is the great showcase of the 4th National Trade Fair on Wine, FENAVIN 2007, given that this is where most of the brands that the exhibitors have on display at their stands can be found. The main objective behind this splendid display is that professional visitors will find a comfortable and peaceful place to taste all those wines they are interested in, without having to run around the different pavilions and enjoying the opportunity of first becoming acquainted and selecting the products they find most attractive.
This objective is framed within FENAVIN 2007's central strategy, which is none other than to favor business between those selling wine and those purchasing. Thanks to the Wine Gallery, purchasers can carry out a comprehensive selection, free of interferences, of the main wines that are on display at the fair. In consequence, they will be able to design an adapted and optimized program of visits to the selected exhibitors.
The FENAVIN Wine Gallery -born during the trade fair's second edition- has been object of an important extension with regards to previous editions, representing on this occasion the most extensive display ever to be seen in Spain. Logically this has represented logistic deployment that not only insures that each one of the wines is in stock, but also stored under ideal conditions for the tasting sessions. More than 60 persons will be working at FENAVIN 2007's Wine Gallery, insuring that absolutely everything is perfectly organized.
To access the Wine Gallery, all professional visitors with credentials will have to register at the Business Center. Opening hours will be in the morning (from 10:00 to 14:00 hours) and a complete list may be requested at the entrance to the Gallery -at the 'Purchaser Information Point'-, list that will be classified according to diverse criteria, covering the different categories of wine on display, including information about their location in the hall. In like manner qualified personnel will be found inside the premises, all in charge of explaining any doubts the purchasers could have, replacing stock and insuring constant availability of clean glasses.
The corresponding index card will be found alongside each displayed wine, both in Spanish and English, with relevant information about the wine in question -tasting note, origin, varieties, type of wine making process, price…- and with the location of the corresponding winery's stand at the trade fair. Purchasers can take notes about the wines in the tasting notebook that each purchaser will receive when entering the Gallery, thus serving as an additional tool to adequately plan their subsequent business interviews. Also and in like manner to the rest of the trade fair, various computer terminals will be available inside the Wine Gallery, with direct access to FENAVIN 2007's Business Searcher.
With 1000 wines and a forecast of serving close to 50,000 glasses to approximately 7000 persons, a resounding success can be heralded for this Wine Gallery, unique in Spain, not only because of its extension, but also because of the quality of its content.