FENAVIN 2007 will be hosting the round table "Singular Wines of Spain"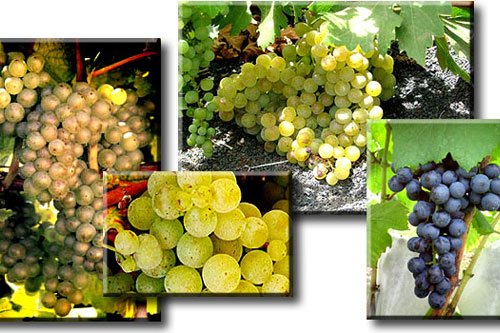 With the participation of prominent winemakers, in which technical, commercial and personal matters involving these very special wines will be undertaken
02.04.2007 |
José Luis Murcia, Director of EFE-Agro, will be the moderator at this round table. The event is framed within FENAVIN 2007's Program of Activities, with the fair taking place between May 7th and 10th at the Ciudad Real Trade Fair Pavilion.
There are a good number of reasons why wine may be considered to be "singular": it may be due to the peculiarities of the region, soil conditions, variety or varieties that are used, techniques that are applied in its elaboration, by the way in which maturing has taken place…
The participants in the round table will present different examples of singular wines. In the case of Rosa Villar, Technical Director of the Winery "El Grifo" in Lanzarote, singularity is a result of the Canary Island's own particular idiosyncrasy. Found at latitude 28º, with rainfall of 150 mm/year and the constant lashing of the trade winds, cultivation of vines in Lanzarote, and specifically of the Malvasía variety, appears to be practically impossible. As can be expected the solution to these obstacles is logically absolutely radical: vegetative growth halting is induced with pruning; density of plantation stands between 300 to 900 plants/Ha; volcanic rock pits and walls protect the vines from the force of the winds… and any mechanical task is simply unapproachable. Thus, in view of such extreme conditions, considering wines from these lands as singular is just short of being mandatory.
Laura Montero, enologist at the Girona winery 'Clos D'Agon' elaborates 'Clos D'Agon Blanco', a difficult combination of three peculiar white grape varieties of French origin. Viognier, Roussanne and Marsanne are typical varieties from the Rhone area. All three give rise to excellent single-variety wines and on top of that, in different proportions and conditions, they are also authorized to form part of French red wines of great prestige, which is testimony to their noblesse and enological value. At the round table Laura Montero will be in charge of explaining all the hows and whys involved in the elaboration of a 'coupage' as singular as this one.
Susana López Mendiondo is the Technical Director of the winery 'Pago del Vicario', in Ciudad Real. Just recently two truly peculiar wines have been presented: the first white wine exclusively elaborated with 'Tempranillo' and the only single-variety Rosé in the world elaborated with 'Petit Verdot'. During her intervention the enologist will focus on these two examples, however, what is indeed true is that the winery imprints a singular touch to each one of its elaborations, always keeping in mind the consumer.
Finally, Abel Mendoza, owner of the winery with the same namesake, will be regaling the audience with his experiences as a "rescuer" of autochthonous varieties from La Rioja. For the last four harvests he has been experimenting with different minority castes -such as 'Garnacha Blanca' or 'Malvasía Riojana'- representing a personal wager, which is entirely artisan and aimed at rescuing these noble grapes from oblivion. The method is always based on ageing with the presence of lees in casks, although with vineyards found at different heights and with different soils. Abel Mendoza assures that "I thoroughly enjoy myself with this, although we still have four or five years ahead of us in order to really be knowledgeable and reach our objective".