2500 international and national purchasers operating from FENAVIN's Business Center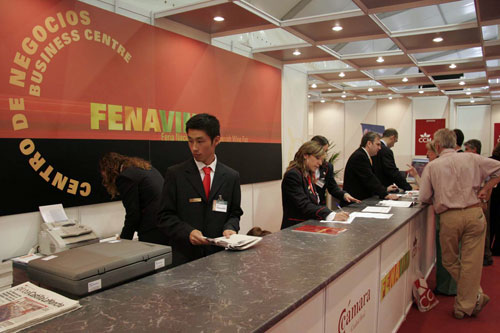 1000 purchasers from 32 countries and another 1500 national purchasers
19.03.2007 |
At the National Trade Fair on Wine (FENAVIN) more than 415 international purchasers from 32 countries will be present, the same handled by the trade fair organization itself. The purchasers are coming from countries such as Belgium, Holland, Luxemburg, France, United States, Japan, Mexico, Poland, Czech Republic, Slovenia, Germany, Austria, Switzerland, United Kingdom, amongst many other of the continents, with the exception of Australia. All of the purchasers, whom are quite aware that they are at the most important monographic trade fair that takes place in Spain, will be operating from the FENAVIN Business Center (ENEO Pavilion).
International purchasers attending on their own are to be added to this figure, estimated in 450 according to figures corresponding to FENAVIN 2005, which means that approximately 500 purchasers can be expected, thus the objective will stand at 1000 international purchasers.
From its very beginnings FENAVIN has always wagered on a clear vocation of professionalism for the sector, on international projection to promote the Spanish wine offer and on continuous improvement of the trade fair itself.
The idea behind this fourth edition of the National Trade Fair on Wine (FENAVIN) is that both the trade fair and its link with internationalization, the Business Center, will be consolidated and reinforced in services and participants.
The Business Center is an ideal space of privacy in which importers and Spanish wine producers can bring their positions closer, reaching commercial agreements and insuring that our wines are known in every single corner of the world. There will be an extensive range of services aimed at the exhibitor so that the same can start, extend and consolidate their presence on international markets, along with support from technical and human means that favor and insure that commercial operations will be possible.
FENAVIN has already become an international reference that must be visited, the same within the frame of one of the most important viniculture regions in the world.
FENAVIN reached surprising figures during its past editions in that pertaining to presence of international and national purchasers, as is likewise the case with commercial contacts. The objective behind this trade fair on wine is to continue working along this line of promotion and winning-over of importers, increasing their number in this fourth edition.
NATIONAL PURCHASERS PROGRAM
A national purchaser-winning program has been established in this sense, aimed at both promoting the fair in this sector, as well as facilitating and procuring attendance of the purchasing representatives from hypermarkets, distributors and specialized stores.
FENAVIN's organization is also working on this national purchaser program with a distinctive treatment, that is to say, by sending an information dossier covering the trade fair, as well as with telephone attention, the same aimed at the 1500 national purchasers (purchase center, distributors, 4 and 5 star hotel chains, medium/high range restaurant chains and delicatessen stores).
In essence, this new edition of FENAVIN 2007 will be reproducing the same schematic used in the three previous editions, without introducing any revolutionary elements, which goes to prove its practical and realistic sense, although with the addition of new elements that will improve this important trade fair and at which a total of 2500 purchasers will be present.
FOREIGN TRADE PROFESSIONALS
The Business Center, overcoming the classic concept of inverse mission, is configured as a space fitted-out with technical and human means. First, updated information about the participating wineries was sent to the potential importers. On the other hand a list of registered purchasers was sent to exhibiting wineries, representing cross-reference information and thus facilitating prior contacts that later on, during the trade fair, may be extremely productive for all parts intervening in the process.
The organization counts with a team of foreign trade professionals that creates and fits-out an ideal space so that professionals from the viniculture sector can come together during the National Trade Fair on Wine. A fair in which internationalization holds one of the key roles to consolidate FENAVIN as one of the points of reference and of mandatory visit for professionals and lovers of quality wine.
Collaboration from the Chamber of Commerce and from the Provincial Government of Ciudad Real allows us to count with the presence of an important number of international purchasers. Coordination between both institutions is necessary to develop contacts with specialized agents and companies in the sector and with Spain's commercial offices abroad, contacts that will then serve to find potential clients for the exhibitors that have trusted in FENAVIN's potential.
Thus the trade fair represents a meeting point that facilitates work meetings between the exhibitors and professionals that are present at the same, counting with the necessary infrastructure to guarantee its success and good operation.
BUSINESS CENTER SERVICES
Amongst other services the Business Center counts with a common use area with connections to the Internet and printers, rest and reading area, office space to consolidate negotiation agreements, coat check service, trilingual English-German-French hostesses, fax-photocopier, technical and internationalization assistance for companies (customs, transport, methods of payment, documents, negotiation, contracting, amongst others). It also counts with a control of exhibitors and importers, distributors, specialized press and foreign agents that have been invited to this year's edition of FENAVIN.
Altogether, the trade fair represents a unique opportunity for exhibitors to initiate, position and/or consolidate our presence abroad, without any need to travel, including the possibility of enjoying "on-site" tasting sessions of our products, presentation of new tariffs, presentation of our companies, negotiation and execution of commercial agreements.
The world of viniculture and the most important national and international media groups will be coming together at this Business Center to thus insure the prestige of wine and conquer new markets.