Close to 1000 wineries from all over Spain will be represented at FENAVIN 2007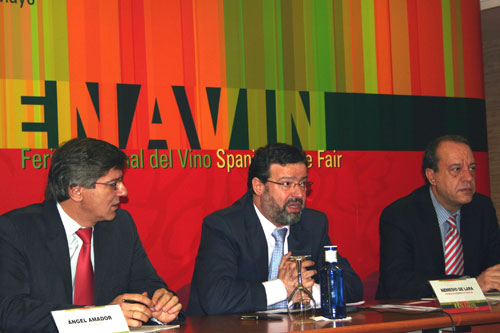 From May 7th to the 10th at the Trade Fair Pavilion in Ciudad Real
14.02.2007 |
Close to 1000 wineries and cooperatives from all over Spain (70% presential and 30% represented) will be participating at the National Trade Fair on Wine, FENAVIN 2007, which will be taking place from May 7th to the 10th at the Trade Fair Pavilion in Ciudad Real, the same counting with a surface of 19,375 square meters of exhibition grounds, distributed throughout seven pavilions.
Practically all of Spain's Denominations of Origin will be present at the first trade fair on Spanish wine. Approximately 55% of the wineries that will be gathering together at the trade fair will be from Castilla-La Mancha; 45% will be from the rest of Spain. 70% of Castilla-La Mancha wineries belong to the province of Ciudad Real, which means that practically all of our province's denominations of origin and other quality indications will be represented.
To date there are a total of 87 wineries from all over Spain on a reservation list due to the lack of space, and this despite having extended the exhibition grounds in 32.60% with regards to the last edition. A new pavilion has been created for this fourth edition, Noe, while the remaining pavilions have also been extended.
MORE THAN 415 INTERNATIONAL PURCHASERS FROM 32 COUNTRIES
Collaboration between the Chamber of Commerce and IPEX with the Provincial Government of Ciudad Real will insure that we can count with the presence of an important number of international purchasers, surpassing previous editions. Coordination between these institutions is necessary so that contacts can take place between agents, specialized sector companies and Spanish commercial offices abroad, thus in this manner finding potential clients for the exhibitors that are present at FENAVIN.
More than 415 distributors and importers from 32 countries will be working out of the Trade Fair Pavilion in Ciudad Real in the upcoming month of May: Belgium, Holland, Luxemburg, France, United States, Japan, Mexico, Poland, Czech Republic, Slovenia, Germany, Austria, Switzerland, United Kingdom, Ireland, Sweden, Norway, Finland, Denmark, India, Turkey, Brazil, Angola, Russia, Taiwan, El Salvador, Canada, China, Philippines, Guatemala, Columbia and Panama.
International purchasers attending on their own are also to be added to this figure, and based on the attendance of 450 purchasers at FENAVIN 2005, we can now expect close to 500, thus the objective will be 1000 international purchasers.
Likewise the national buyers program will be prepared with the aim of promoting the trade fair in the sector and facilitating and procuring attendance of purchasing representatives from hypermarkets, the distribution sector and specialized stores. FENAVIN's organization is working on this national buyers program with a distinctive treatment, that is to say, by sending an information dossier about the trade fair and likewise via telephone attention aimed at 1500 national purchasers (purchase centers, distributors, hotel chains /4-5 star hotels, restaurant chains /medium-high range restaurateurs and delicatessen stores).
COMPLEMENTATION OF THE BUSINESS SEARCHER AND WINE GALLERY
Once again complementation of the Business Searcher and the Wine Gallery will facilitate the work of purchasers attending FENAVIN 2007.
With the Business Searcher purchasers will be able to previously select the wineries they wish to visit and then, in the Wine Gallery, they will also have the chance to first try the wines and then visit the exhibitor stand with prior knowledge about the product that is on display.
1000 wines at the service of 50,000 glasses will be represented at the FENAVIN 2007 Wine Gallery; 300 more brands than in the FENAVIN 2005 Wine Gallery. Likewise the Wine Gallery's exhibition space has been increased. At this edition it will be counting with 1500 square meters.
There will also be a "buyers information point" at this edition, which will be a novelty, the same located at the entrance to the Gallery and where it will be possible to obtain a computerized list of the wine categories that the purchasers are interested in. 60 persons will be working at this space and visitors numbering up to 7000 are expected.
More than 40 parallel activities are also being contemplated, these in collaboration with other associations and professional organizations that are representative of the sector, all of which will verse on wine and sports; wine and health; wine and culture and wine and communication.
And of course a series of sessions will be taking place with professionals from the world of wine representing countries such as Japan, Nordic Countries, India, United Kingdom, United States and Germany, sessions in which how to sell Spanish wine in these countries will be discussed.
1st WINDOW DRESSING CONTEST
For the first time ever FENAVIN 2007 will be counting with a Window Dressing Contest, organized by the Provincial Government of Ciudad Real in collaboration with the Chamber of Commerce and Ciudad Real's CEOE-CEPYME (Confederation of Employers' Associations).
This contest is aimed at the commercial sector of Ciudad Real's population, independently of the activity. The objective of the contest is, with reason of the celebration of FENAVIN, to conveniently and freely adorn and decorate shop windows with elements from the world of viniculture. Therefore, the decorative theme will revolve around the world of viticulture and enology and any decorative material or element that the trade itself considers opportune may be used.
A total of 10,000 Euros in prizes will be shared-out. The first prize amounts to 4000 Euros, second 2500 Euros and third 1500 Euros. A first consolation prize of 1000 Euros will also be granted, as well as a second consolation prize of 1000 Euros. All the winners will also receive a case of wine from the province.