Of the wineries that participated at FENAVIN 2005, 98% of them will be repeating at the National Trade Fair on Wine that is to take place between the dates of May 7 to May 10 of 2007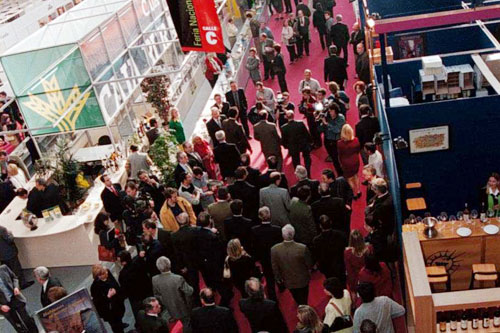 09.01.2007 |
The exhibition surface that the National Wine Trade Fair will be dedicating to the event, which is currently being organized by the Provincial Government of Ciudad Real to take place in the month of May 2007, has been fully covered. This is despite the fact that it has been increased in 4500 square meters with regards to the past edition, which took place in 2005 given the biennial nature of this important monographic event on wine.
So many requests have been coursed to date that the space that the Provincial Government makes available has been already been fully booked. The organization is literally swamped with the numerous requests that are arriving.
Nemesio de Lara, President of FENAVIN, explains "despite the difficulty involved in answering all the requests, the inscription period will remain open until the established date. The reason for this is the seriousness that characterizes us obliges us to leave it open, although we will be doing something that was not initially foreseen, given that we will have to make a selection of the requests that are formalized in view of the fact that new requests from wineries and cooperatives continue to take place".
Six pavilions were set-up at FENAVIN 2005, with a total surface of 14,612 square meters, exhibition offer that will be increased up to 19,075 square meters for the 2007 edition. From May 7 to 10 FENAVIN will surpass the space that in 2005 was dedicated to exhibition in 30,5%.
More than the 98 percent of exhibitors that participated at FENAVIN 2005 will be repeating in 2007, given that 744 of the 789 wineries that were present in the previous edition will be returning. "There is no better symptom, nor better symbol to make quite clear what FENAVIN represents, given that almost 100 percent of the exhibitors wish to repeat", adds the President.
98 MORE EXHIBITORS
The wineries and cooperatives that will participate at FENAVIN 2007 will be distributed throughout seven pavilions, one more than in 2005. The six previous pavilions will be maintained. That is to say, Eneo, with 4000 square meters; Homero, with 1125; Virgilio, with 6100; Osiris, with 3000; Hesiodo, with 600 and Dionisos, with 2950 square meters. The new pavilion has been baptized with the name of Noé, and it will count with an exhibition surface of 1300 square meters.
A total of 98 exhibitors will be present for the first time at the National Wine Trade Fair, although many of them will present themselves in grouped stands with several wineries and cooperatives, thus, on today's date, we are still unable to exactly mention the exact number of wineries. At any rate a significant increase in registrations is foreseen.
The new exhibitors are mainly from Castilla-León, Catalonia and from the Basque Country. Although exhibitors from La Rioja, Madrid, Murcia, Navarra, Alicante, Zaragoza and Ciudad Real will also be present. "This is proof that the echoes of our trade fair have overcome our own territorial borders, moving not only out of Castilla-La Mancha, but even out of Spain, because the program of foreign purchasers will be significantly promoted for the May 2007 edition", manifests Nemesio de Lara.