Pedro Barato: "Events such as FENAVIN insure that our wines are known, thus leading them to their maximum expression"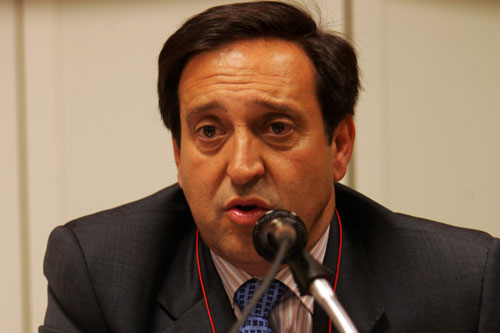 According to the national president of ASAJA, association that collaborates with FENAVIN and ESPAÑA ORIGINAL for the winning-over of exhibitors.
02.06.2006 |
The national president of ASAJA (Asociación Agraria de Jóvenes Agricultores) (Agricultural Association of Young Farmers), Pedro Barata states "events such as FENAVIN insure that our wines are known, thus leading them to their maximum expression". ASAJA collaborates with the FENAVIN and ESPAÑA ORIGINAL organization for the winning-over of exhibitors throughout the national territory.
Q.- What is the current situation of the viniculture sector in Castilla-La Mancha in particular and in Spain in general?
A.- The viniculture sector is currently undergoing changes. What is most concerning is that the community institutions are completely unaware of what is taking place in the sector. The Agricultural Commission of the European Union has provided four options to reform the viniculture sector, and none of them take into account any of our country's characteristics. The wine sector, after its restructuring, is currently undergoing an optimal moment to wager on the vine-growers, without forgetting about commercialization.
Q.- What reason do you feel is behind the drop in wine consumption in Spain?
A.- It is never a good idea to generalize. In this sense there is important information: the fact is that those wines associated to presentation and quality have risen, which should give us a few things to think about. We must inform the consumer and the public opinion about what we are doing. The efforts that are made are scarce in order to say that we are capable of producing a wine with an exceptional price-quality ratio. It is important that the consumer knows how we do things and at what price.
WINE HUMANIZES PERSONS
Q.- Do you consider that a wine culture exists?
A.- Yes, and that wine culture originates in ancient times, already in the sacred scriptures, in which wine appeared as a main element. Much time has been wasted, ignoring that this wine culture has to be strengthened. Wine is friendship, happiness, conversation... if we know how to treat wine, it will humanize persons.
Q.- Do you think we should compete in the viniculture sector to sell our wines in other countries?
A.- We must be present on the markets and we must conquer them; we must not think that they will come and buy our wine. The time has come to go out and sell our wine, through the Universities, the Chambers of Trade and Commerce, supported by the computer culture.
FENAVIN, A PROFESSIONAL TRADE FAIR
Q.- What is your opinion of FENAVIN, the National Wine Trade Fair that is celebrated in Ciudad Real every two years?
A.- The very best. My opinion is the very best. I believe in the projects and we support these projects. We must be grateful for the initial idea that gave way to FENAVIN, in which I put my own grain of sand, and above all we must congratulate the professionals, as is the case with Manuel Juliá, Director of the Trade Fair, who has been capable of creating a human team with very positive results. FENAVIN is a professional trade fair.
Q.- And what is your opinion of the new trade fair that the same team that created FENAVIN is now organizing, ESPAÑA ORIGINAL, National Trade Fair on Denominations of Origin and other Quality Indicators?
A.- The approach is the adequate one. I think that small and medium sized companies must be given an opportunity. Thus I consider that the idea of this new trade fair is very relevant. The entire food and agricultural framework can be found in the trade fair. With our participation what we want to do is invite even the smallest companies, given that they must have their niche. Vehicles such as ESPAÑA ORIGINAL must result in far more added value for what we do in our land.