Commentated wine tasting: Vinos de Madrid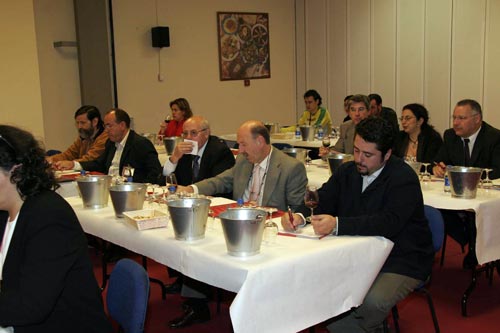 Mario Barrera, technician CRDO (Appellations Regulatory Board): "FENAVIN is already a world reference"
12.05.2005 |
The CRDO Vinos de Madrid (Wines of Madrid) organized, within FENAVIN, a commentated wine tasting event, which was led by Mario Barreda, Technical Director CRDO, where participants tasted 8 wines from 8 wineries from the appellation.
Mario Barrera believes a taster must have a solid knowledge of wines and continuous and continued training. "we are dependent on our sensory memory" he says "and must have open training and taste all types of wines from everywhere, in order to enlarge our patterns"
Likewise, he explains that when tasting, all the wine characteristics must be taken into account. From its presentation in the bottle to the contents, through price and knowing how, when, with whom and where we are going to drink. "The best wine is not the best made wine but many factors have to be taken into account such as company and when we are drinking it" he states and he adds the important thing is to use common sense.
The wines under scrutiny in this instance were: "Corucho", from bodega Luis Saavedra; "Viña Rey 70 Barricas" from Bodegas Castejón; "Greco" from Vinos Jeromín; "Main", from bodegas Orusco; "Premium", from bodega Valle del Sol; "Asido", from Ricardo Benito; "Tagorius", from the winery with the same name and "Qubél Barrica" from Gosálbez Ortí.
The appellation Vinos de Madrid gathers a total of 39 bodegas, of which 13 are cooperatives and 26 private wineries. The extension area for the appellation is 10 651 hectares (1,5 % of the total area of Comunidad de Madrid - the Community of Madrid) 3 084 vine growers belong to it.
Lastly, Barrera who has participated in three FENAVIN thinks that great risks have been run but results are very positive. "I believe FENAVIN is a reference point in the national and international wine scene, it has increased volume, grown in importance and professionalism and this indicate the level it has now achieved"