The task of specialized shops is to bring the wine culture closer to the consumer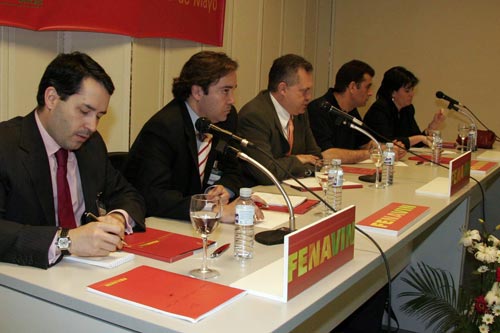 José Luis Murcia, director of Efe - Agro, leads the seminar
12.05.2005 |
The main task of the specialized shops is to bring the wine culture closer to the consumer, so say professionals who participated in the Seminar titled : "specialized shops and consumer taste" which was chaired by José Luis Murcia, Director of EFE - AGRO, the last day of FENAVIN.
During the seminar, a vision of consumer trends with regard to wine was given by the speakers. They presented different ways of distribution, according to the type of business they manage, as well as current consumer demands.
Maite Santa Cecilia, Director of the quality wine specialized shop Bodegas Santa Cecilia, located in Madrid, where she has had up to 5 000 references, said that this type of establishment must have more than the already famous products with major turnover. They must work hard in search of new references to adapt to a changing market. "Since wine is not an essential product, it must be put on the market at a reasonable price for the consumer and be given added value to turn it into a cultural and healthy product" she stated.
Carlos Moreno, owner of the specialized shop Valentín Moreno e Hijos, the most outstanding in Castilla - La Mancha, says the specialized shop is "nowadays, the best image the wine world can give. It is based on three mainstays: shopfitting, presence of specialized professionals and affordable prices for quality wines".
Félix Lanz, oenologist and sommelier for Enoteca Barolo, thinks "it is necessary to democratize the wine world, bringing it closer to the consumer through descriptive wine tasting, easy to understand, and avoiding technical terms only understood by experts". He also invites the consumer to become discoverer of emerging wines, with good quality and good prices, which are coming to the surface more and more in our country.
As for Francisco López Bago, Director of Club de Vinos Gourmet, he advocates an adequate prescription to help consumers know quality wines at the best price. He requests union between institutions - in order to promote wine both on a national level and international -, and winemakers and the use of reliable sources of information.
Murcia explained that this seminar closed the series of conferences related to consumers during FENAVIN.