FENAVIN: People in charge in well known wineries analyze the different offers related to wine tourism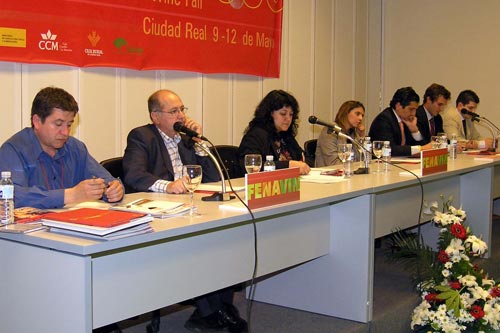 Wineries : Bodegas Osborne, Martúe, Real, Aresan, Mont Reaga and Peces Barba
11.05.2005 |
The Association Rutas del Vino (Wine Routes) in La Mancha and Valdepeñas held a round table within the activities taking place at the National Wine Fair. Several famous wineries were represented by their managers who talked about the different actions related to eno-tourism they are developing , as explained by the president of the association, Francisco Díaz.
During the talks, Carolina Cerrato, from Bodegas Osborne; Fausto González, from Bodegas Martúe; Ignacio Barroso del Real, from Bodegas Real; Aurelio Arenas, from Bodegas Aresan; Juancho Villahermosa, from Bodegas Mont-Reaga; and Juan Fernando Peces-Barba Aguado, from Bodegas Peces-Barba had their say.
Once each of them explained what steps they had taken to promote eno-tourism in their respective wineries, the audience could participate, get information, share opinions and make proposals.
According to the president of Asociación Rutas del Vino, wineries must be united to obtain interesting results. It is necessary to create tourist routes to be certified by the Dirección General de Turismo de la Junta de Comunidades (Tourist Office of the Communities Body), and join forces and get more sectors involved in the project. All will get benefits from people who are interested in eno-tourism.
All the people present agreed it is necessary to keep working to get the desired results and convince potential tourists with attractive and quality offers for wine lovers.