In FENAVIN, the Asociación Rutas del Vino en La Mancha y Valdepeñas (Wine Routes in La Mancha and Valdepeñas Association) proposes to travel around the "Caminos del Vino" (wine paths).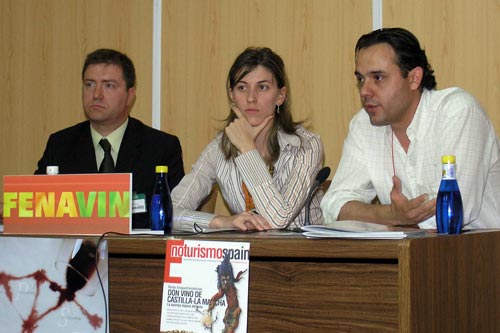 A wine and tourism project involving 6 municipalities and 66 businessmen of Ciudad Real.
11.05.2005 |
In FENAVIN, The Association Rutas del Vino en La Mancha y Valdepeñas organized a round table which, under the title "Eno-tourism, initiatives in Castilla - La Mancha", has reviewed the new tourist offers evolving around oenology and wine culture which are being developed in the region in order to promote internal tourism in an important sector, namely the wine sector.
The president of the association, Francisco Díaz, explained how 6 municipalities from Ciudad Real and Albacete -Tomelloso, Socuéllamos, Pedro Muñoz, Alcázar de San Juan, Valdepeñas and Villarrobledo - together with 66 businesses of the region, including town halls of the mentioned towns, back this new projects called Wine Paths. With this they want to promote a kind of tourism where wine and wineries are very important, but also the villages supporting this tourism. The idea is to know the wine, wineries and vineyards, but also to complement those items with the places tourists come across and where they can feel at ease.
The association's managing director, María Delgado, explained in detail what made them create "Caminos del Vino", and she mentioned, amongst other things, the wine situation in the area, tourist offer, wine as an attraction, agents, the identification with the project and its management.
As for Rafael Morales, director of Plataforma Multimedios El Sacacorchos (a mass media platform), he told the audience the objective was to move away from seriousness, which characterizes wine, but without loosing accuracy and recognition. He informed the Plataforma offers radio programs, a magazine, internet portal, a musical group called "Los Taninos" (The Tannins) and 7 routes including wineries in the 5 provinces of Castilla - La Mancha.
Javier Díaz, manager for Servicio de Turismo de la Cámara de Comercio e Industria de Toledo (Toledo Chamber of Commerce and Industry Tourist Service) set out what the project Turismo Industrial Provincia de Toledo (Toledo Province Industrial Tourism) is. He explained it as an alternative to traditional tourism which was created in Europe to promote the richness of its industrial heritage. This program was put into motion due to the awareness of enormous potential of the sector. To promote it, they printed 30 000 guides which can also be found in web page of the Toledo Chamber of Commerce. In this province, this year, there are 48 companies participating of which 13 are wineries.