The color of wine, conference by Díaz Yubero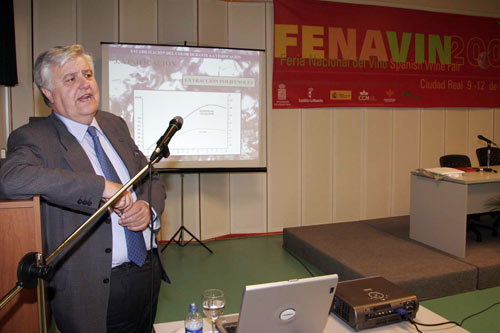 11.05.2005 |
Color extraction and stabilization during the wine-making process was the topic for the conference given this afternoon by Francisco Díaz Yubero, agronomist and teacher at the University of La Rioja. He explained, in a systematic and technical way, the components and elements involved in the color of wine. "All quality wines" he said "have high color. Nowadays one cannot imagine colorless quality wines".
Díaz Yubero talked about raw materials used in the wine-making process, referring to poliphenols, ethanol, oxygen and temperatures, amongst others, as elements having an influence on color stabilization. In the same way, he mentioned pH as an acid with a potential to limit oxidization.
In short, Díaz Yubero's conference was a master class, a result of years of research and hard work, with a great value for experts and technicians as, when obtaining a good wine, apart from the quality expected by the consumer when tasting the product, the color stabilization must be authentic and in accordance with this quality with the presence of the final fruit.
Color changes, as explained during the conference, is due to "anthocyanins" (the molecules responsible for color in wines) and tannins (responsible for astringency and body in wines) which are simultaneously involved in the bright red coloring of young wines, during storage, the free "anthocyanins" disappear and the condensed complex tannins- anthocyanins give aged wine their characteristic onion skin color.