The Manchuela appellation presents its most representative wines in FENAVIN during a wine tasting event led by Victor de la Serna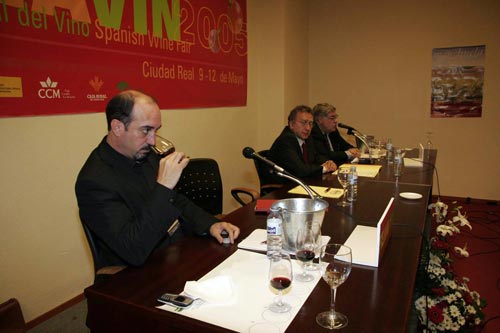 Participants tasted 7 wines from the Provinces of Albacete y Cuenca
11.05.2005 |
The Manchuela Appellation Regulatory Board presented its most representative wines in a wine tasting event commented by Victor de La Serna, the famous journalist and winemaker from the region. Also present were the General Manager of Mercados Alimentarios de la Junta de Comunidades (Food Markets of the Communities Body) , Federico López; the president of the said body, Ángel Navarro and the journalist and director of the territorial TVE center in Castilla - La Mancha, Carlos de la Morena.
During his speech, Federico López praised wines presently being produced in La Manchuela area, and he encouraged the people in charge in the Appellation Regulatory Board to have such high quality wines widely promoted and tasted.
As fort the president of the Regulatory Board, he explained there are more than 1 100 farmers backing the Board, with over 4 000 hectares between La Mancha and Levante. This privileged geographical situation enjoys a dry and warm climate from La Mancha with Levante influence, average height of 600 to 700 meters, which gives these wines a peculiar character.
Carlos de la Morena, highlighted La Manchuela must be discovered and wines produced there can be of great interest. For the renowned journalist, the special wind named Solano is particularly important as it brings coolness and humidity to make magnificent grapes and he considers it to be a "blessing". De la Morena stresses it is paramount to be singled out amongst so many good wines being produced and he champions differentiation.
De la Serna told the audience there are three kinds of grapes or grape varieties which are characteristic of La Manchuela, namely local Bobal, Tempranillo or Cencibel, and Macabeo. He also pointed out that 6 of the 7 wines tasted belong to the so called Manchuela Media whereas the other one was from Alta Manchuela.
The first wine was white, next came a rosé and the rest were reds from different years, both variety and non variety. The wines tasted during this event were: Altos del Cabriel, Villavid, Viña Altaba, Realce, Monte Mirón, Finca Sandoval, and, as a real novelty, since it has not been put on the market yet, Alto Landon.