De Lara and Amador have been awarded the FENAVIN 2005 Prize "A lifetime devoted to wine"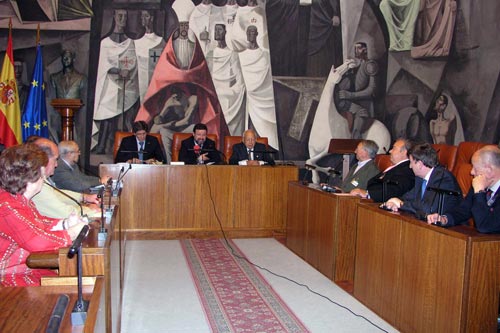 In the Provincial Government Chambers
11.05.2005 |
"I am sure we would not be organizing such a fair if it were not for people like you who have done so much for the wine world and for the sector". These were the words of Nemesio de Lara, president of FENAVIN during the official reception for people nominated by the organization as worthy of the FENAVIN 2005 prizes "A lifetime devoted to wine".
The event took place in the Provincial Government Chambers, the same place where, according to De Lara, "I announced , on the last day of July 1999, my intention to promote a monographic wine fair with national repercussion". "Then, he said, FENAVIN was only an idea, a beautiful dream which in a short time, actually 6 years later, has become a reality and this is very gratifying.
Previously, De Lara had greeted the prize winners who came to the reception - some of them could not be present like Victor de la Serna and the Marquis of Griñon - he stressed he is very proud of the work carried out so far and the evolution of the National Wine Fair. "Right now, 400 international buyers and 700 exhibitors are accredited and they have not hesitated to display their wines in Ciudad Real, in the first Spanish National Wine Fair" he said during his speech.
Likewise, he mentioned the possibilities offered by the Wine Gallery, with a significant increase in the number of brands this year, the activity in the Business Center, and the novelty for this year, the Viticulture Innovation Room, which opens FENAVIN to the research world. "Tomorrow, when closing this great event, 12 projects carried out in various parts of the world, will have bee presented" he affirmed.
Prizewinners in FENAVIN 2005 are Isabel Mijares García Pelayo, businesswoman and wine technician,; Antonio Páez Lobato, winemaker; Ramón Gijón Maeso, technician; Manuel Rodríguez de la Iglesia, restaurant owner; Jesús Díaz García, winemaker appointed by Valencia CRDO and Arnaldo Valsangia as winemaker appointed by Vinos de Madrid CRDO (Appellations regulatory board).
Other prizewinners are the winemaker Enrique Martín Peñasco, CRDO Valdepeñas; Carlos Falcó, winemaker; the journalist Víctor de la Serna Arenilla; Daniel Vuelta Fernández, owner of Palacio de Arganda; José Bezares Jiménez, ex president of Bodegas y Bebidas and wine businessman and Víctor Pascual Artacho, president of La Rioja C.R.D.O.