List of winners of the I Concurso Mejores Vinos Tierra de Castilla (I Competition Best Wines from Tierra de Castilla)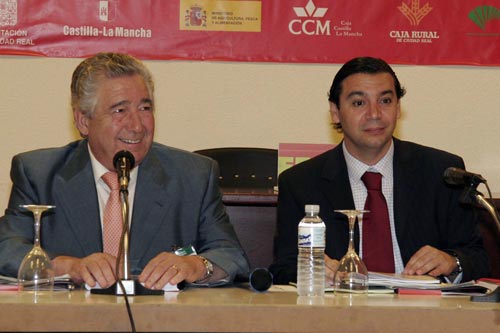 ASEVICAMAN states bottlers will contribute to the Fundación Tierra de Viñedos (Foundation Land of Vines)
11.05.2005 |
The Asociación Empresarial de Bodegas de Vinos de Castilla- La Mancha ASEVICAMAN and its branch for musts AEMZUCAMAN declared today in FENAVIN "bottlers will contribute, just like everyone else, to the Foundation "Castilla - La Mancha, Land of Vines" but the regulations of the Foundation must be enlarged and the amount of contribution for each member has to be decided" said Román Cantarero.
The creation of a consortium between AVIMES and the Spanish Wine Federation (FEV) in order to have only one voice for negotiations in the wine world was one of the subjects during the General Assembly of Asevicaman and Aemzucaman
Rafael Puyó, secretary of both associations, made an appeal to highlight the necessity to give more importance to must in Spain and this autonomous community. "Spain is the main must exporter and producer in the world and Castilla - La Mancha produces and exports 90% of the national must, and is therefore the principal region in the world. We hereby request from the Administration to confer must the place it deserves".
INCREASE WINES FROM VINO DE LA TIERRA TO COMPETE WITH FRANCE
As for wines from the land, Rafael Puyó expects that "thanks to marketing, we hope to increase to 3 million hectoliters the production of our wines from Vino de la Tierra, as this type of wine represents 75% of wines sold in France, whereas in Spain mean some 13%". Asevicaman wants to "produce and bottle more wine from Vino de la Tierra, and go from 1 to 3 million hectoliters if we want to compete with France".
As a way to boost wines from Vino de la Tierra, Asevicaman has created the "I Competition of Best Wines from Vino de la Tierra de Castilla" and "I Official Competition of Best Wines from the Spanish Vinos de la Tierra" (the latter is open for entry till 1st of June).
Puyó stated that for 2004 Spain had record numbers in terms of wine exports, with 14 million hectoliters, whereas in 2005 we notice a drop in exports but reimbursement increase 3%.
LIST OF PRIZEWINNERS - I COMPETITION WINES FROM VINO DE LA TIERRA DE CASTILLA
The president of AVIMES, José García Carrión, and the regional Minister of Agriculture Mercedes Gómez will present today, at 17.00 hours. in the Assembly Room the prizes "I Competition Best Wines of Vino de la Tierra de Castilla" promoted by Asevicaman (Asociación Regional de Empresarios Vitivinícolas de Castilla-La Mancha- Castilla - La Mancha Regional Association of Wine producing Businessmen ) in cooperation with the Castilla - La Mancha Regional Ministry of Agriculture. This was quite a landmark as this type of variety wine is being promoted for the first time. The wines show the vintage and the winemaking process used and they are good value for money which makes them very appreciated for every day consumption. Around 100 wineries participated.
Gold Medal prizewinners are: "Ardales de Arúspide" airén (Bodegas Arúspide Valdepeñas), Best Wine of Vino de la Tierra de Castilla 2004; "Viña Aljibes" (Servicios Contrataciones Rústicas e Industriales de Chinchilla), Best Rosé from Vino de la Tierra de Castilla 2004; "Olcaviana", from Viñedos Explotaciones Ruiz Sánchez from La Roda, Best Young Red Wine from Vino de la Tierra de Castilla 2004; "Montalvo Wilmot Roble 2002" from SAT Soto de la Toledana de Argamasilla de Alba, Best Red Wine 2 or more years old.
Likewise there was a special prize for Best Format and Presentation awarded to "Legado Muñoz" Chardonnay 2003 from Viñedos y Bodegas Muñoz SL from Noblejas.