The Wine Gallery, one of the most visited areas in FENAVIN 2005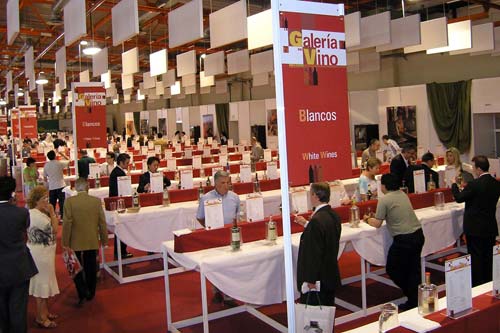 Over 700 wines can be tasted in an area of 1 400 sq. meters
11.05.2005 |
The III National Wine Fair, FENAVIN 2005, provides space for an impressive Wine Gallery, with 1 400 sq. meters in the Dionisos Pavilion being the biggest ever displayed in Spain. There, in an organized way, and with the appropriate temperature control, more than 700 wine brands are displayed. There are hundreds of people coming every day and from many different countries enjoying the wine.
The Wine Gallery, sponsored by Caja Rural de Ciudad Real, is located in the Dionisos Pavilion and the objective is to allow all professionals present at the fair to have access to wine brands without help, also giving them the freedom to do it at their own pace.
The Gallery is coordinated by the president of the Federación Nacional de Enólogos (National Oenologists Association) , Vicente Sánchez-Migallón, who explained that the number of brands had to be restricted due to the enormous demand from professionals and winemakers. There are more than 30 people working in the Gallery thus ensuring the best service. The idea started with the last edition of FENAVIN and this year the Gallery has twice the space and wine to offer.
Our recommendations to participants is to reach the Gallery through the Cavas area, this way the tasting will be done in the correct order. There they will handed over a note pad where they can write down their impressions. Behind each wine they will find the information related to it and this way people will know the appellation, year, type of grape, winemaker, location of the stand within the fair, aging in bottle or cask, production volume and, in most cases, the retail price.
The Wine Gallery is opened to all, be it importers, professionals from the sector, or amateurs and wine lovers in general as, there, one has the possibility to taste wines and enjoy their characteristics.