Carlos Delgado: "media are vital for the wine sector"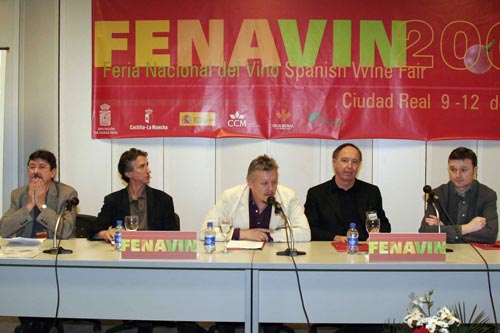 According to the wine critic from El País daily newspaper during the conference: "The image of wine in media"
11.05.2005 |
The wine critic from the daily newspaper "El País", Carlos Delgado, pointed out that "media are vital for the wine sector" during the conference "the image of wine in the media" which was held this morning with the presence of José Carlos Capel, gastronomy critic for "El País", José Ramón Martínez Peiró, director of the magazine "Sobremesa" and Juan Manuel Bellver, gastronomy critic for "El Mundo" newspaper. The conference was chaired by Federico Oldenburg, advisor for the wine portal "Lavinia".
Carlos Delgado started some twenty years ago writing a wine column in "El País". "The first critics were about me for writing and criticizing wine. Fortunately this has evolved because wine has reached acceptable consumption levels" he stated.
"The wine sector needs to boost and create a wine culture, it needs more knowledge about wine. In this respect, media are vital" the director of the magazines "Mi Vino" and "Vinum" asserted.
As for Juan Manuel Bellver, Department manager for the "Metrópoli" supplement, he pointed out : "the invention of supplements in media of general interest are not as old as it seems. Supplements have to do with the marketing department needs of the newspaper as for each season there are "specials" during the year. We are in search of attractive current news "hooks" which are not sensitive" he added. Likewise, he said "to talk about wine I get close to people who are not wine lovers. It is a way to put yourself in the shoes of the basic reader"
WINE CULTURE HAS ENORMOUS DEFICIENCIES IN OUR COUNTRY
José Carlos Capel, member of the Spanish Gastronomy Academy said "wine culture has enormous deficiencies in our country". "Writings about wine are still scarce although readers are dazed. There are frivolous comments in women's press. Women editors publish reviews of a rather mediocre level. Readers are disoriented with such diverse information published in the media" he added.
The director of the magazine "Sobremesa", José Ramón Martínez Peiró talked about the type of language used by critics in the media. In this respect he said that general interest media must talk about wine in order to make it understandable to all. "The media have to take good care of the message in order to make it understandable and the specialized press must have the function of creating a wine culture, to bring wine closer to the people" he stated. He also pointed out that "nowadays people know more about wine and they do not get impressed by others who use weird words".