The Norwegian writer Arne Ronold recommends the Spanish exporters to use alternative packaging which are preferred by Norwegians like "bag in a box"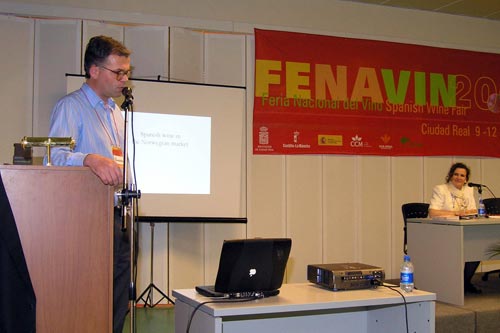 The Spanish red wines are amongst the three most consumed in Norway, together with Italy and France.
11.05.2005 |
The Norwegian market prefers wine from the Old World, which is favorable for Spanish wines. The latter rank third in terms of imported wine consumption in Norway, right after France and Italy according to the writer specialized in wine subjects, Arne Ronold, during the seminar held in FENAVIN "Spanish Wine in the Norwegian Market" this morning.
The writer who is founder and editor of the Norwegian magazine specialized in wine "Vinoforum" since 1986 and founder of the Norwegian Wine Academy (1998) explained the situation of Spanish wine in Norway, which "takes shape and is based on recent sale statistics and the analysis of current trends of Spanish wine in the market".
BETTER, BAG IN A BOX
He recommends the Spanish exporters to use alternative packaging preferred by Norwegians like the "bag in a box" although this is not very popular in Mediterranean countries.
According to Ronold, becoming accredited with the Scandinavian monopolies is a very difficult task and, therefore, it is paramount for Spanish Exporters to know other alternative channels to help enter the Northern markets. Furthermore the writer states that entering one of the three Northern markets does not necessarily mean entering the rest, as, although we have similar characteristics like a rather small population, our differences are noticeable when it comes to consumer behavior and their wine preferences.
Arne Ronold, during his speech has enumerated various alternatives to enter the Norwegian monopoly market, and also factors ruling competitive prices where there is a great influence of the very high taxes applied to alcoholic beverages in Norway.
To reach the Norwegian market, Spanish exporters should consider the type of product to put on the market and when we are talking about wines with a great production volume, it is advisable to use the so called "red list" which exists in three categories in the Norwegian shops: basic, principal and complete. In each of them, one can find different ranges of wine.
For better quality wines or a bit more exclusive ones, the "blue list" is recommended where there are 6 500 additional wines for the consumer to chose from once tasted and then decide.