400 foreign buyers share experiences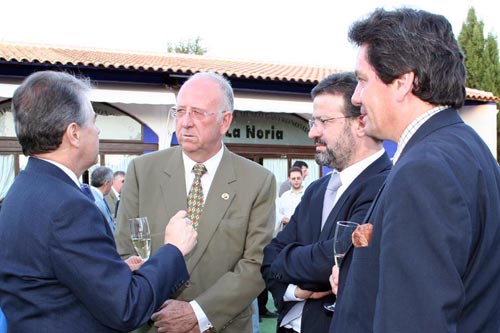 At a reception given by the president of FENAVIN
11.05.2005 |
The president of the National Wine Fair, Nemesio de Lara, gave a reception for the foreign importers and buyers who are participating in FENAVIN. Actually, the organization thought it would be positive to give them a chance to exchange views by bringing them together in such an event.
De Lara welcomed the approximately 400 buyers together with Juan Antonio León Triviño, president of the Chamber of Commerce, a body that cooperates with the Provincial Government in the Business Center. The institutional coordinator of FENAVIN, Ángel Amador, and the director of the event, Manuel Juliá, joined De Lara in his task.
After welcoming everyone, Nemesio de Lara made it clear that the fair was created "by and for business reasons" and he conferred special importance to the buyer and therefore thanked all of them to have trusted in FENAVIN. León Treviño stated that the Chamber of Commerce is very proud to contribute to the Business Center.
Their speeches were simultaneously translated into English because the audience was composed of people from over 20 different countries, amongst them Ireland, Germany, United Kingdom, Holland, Czech Republic, Poland, Lebanon, Brazil, United States, Japan, China, Norway, Sweden, Finland, Belgium, Denmark, Mexico, Austria and Slovenia.
DISCRETION AND PROFESSIONALISM
De Lara, Amador, Juliá and León Triviño took some time to chat with some of the buyers in a relaxed way. Practically all of them valued in a very positive way the system offered by FENAVIN to establish contacts and make deals. According to them, the most valued features are the professional service and discretion used by the organization as it provides them with physical spaces where they can do business in a quiet and private way.
Another unique feature from FENAVIN is the Wine Gallery, unanimously emphasized by all foreign buyers. "There we can taste wine without sales people or, in this case, winery owners giving information about their product; we can taste the wine, in private, and decide about its virtues". This is the way one of the buyers coming all the way from Mexico, Capital City, to Ciudad Real, expressed himself.