De Lara requests from the cooperatives, in the UCAMAN General Assembly, more unity in the wine sector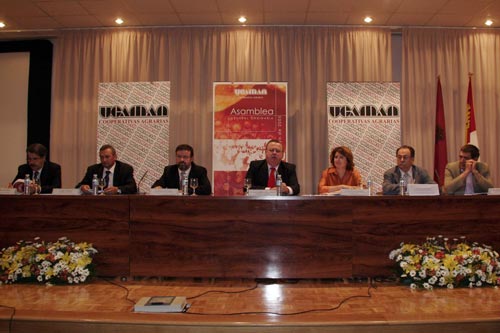 The minister of Agriculture in the Regional Government, Mercedes Gómez was also present.
10.05.2005 |
Today, the president of the National Wine Fair, Nemesio de Lara, requested from cooperatives more unity in all the sectors and, especially, in the wine sector during the closing of the general assembly of the Unión de Cooperativas de Castilla - La Mancha (Union of Cooperatives from Castilla - La Mancha) (UCAMAN) held in FENAVIN this morning. "In such open markets, if there is no unity, we are lost", stated De Lara who was accompanied by the president of UCAMAN, Alejandro Cañas and by the minister of agriculture in the regional government, Mercedes Gómez.
"We have to throw ourselves into promotion campaigns to encourage wine consumption at national level" said De Lara, who confessed he is not a great expert in the sector but a true defender of the same and "FENAVIN is a clear example of it, because I believe in what is ours". That is exactly what the president of UCAMAN has insisted upon. Cañas maintained De Lara "has proven to be a true politician who will be remembered because he started the best wine fair in Spain".
OPENING CEREMONY
Previously, the opening ceremony counted on the presence of Manuel Juliá, director of the fair, and the deputy mayor of Ciudad Real, Javier Morales. Juliá said FENAVIN is a very important tool for Castilla - La Mancha. "When I was general manager of Financial and Economic Policies, it was clear to me that the main development value of Castilla - La Mancha is the food and agriculture sector" he pointed out.
The director of FENAVIN declared, "Ciudad Real is hosting the best wine fair in Spain. We are teaching others". He also stated "in FENAVIN there are 700 wineries, and more than 200 could not get in. We are generating management systems which are being copied, we have a Wine Gallery where 750 wine brands can be tasted, a Business Center, a Business Search tool where any buyer in the world can get to know wineries in the whole of Spain".
During the assembly with more than 200 representatives of the agricultural and cattle cooperatives of the five provinces from Castilla - La Mancha, the Action Plan of UCAMAN 2005 was approved. One of the new features of the Plan is to carry out a survey with all the cooperatives of the region in order to get direct, reliable and current data about their situation.
UCAMAN has taken advantage of the general assembly to present two awards, one going to the journalist Carlos de la Morena, director of the territorial center of TVE in Castilla - La Mancha, and another to the legal adviser of the Union, Juan Miguel del Real.