The wine buyer Nick Room asserts, "the Wine Gallery is a very good opportunity to taste wine"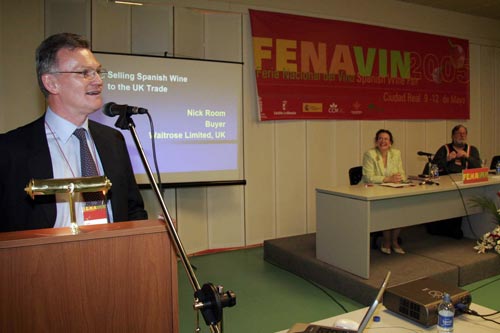 During the talk held together with the journalist John Radford.
10.05.2005 |
The British buyer of Spanish wines Nick Room, who participated this morning in the talk "how to sell Spanish wine in the United Kingdom market" affirmed that "FENAVIN Wine Gallery is a very good opportunity to taste wine in a quiet environment and making the most of one's time". He also praised the fair in terms like "big and impressive".
Nick Room, who works for the Waitrose supermarket chain (one of the most important in England) made a brief summary of the Spanish market share, highlighting "rosé is growing quickly". He also talked about wine brands stressing Rioja as the Spanish brand for wine. Likewise, he made a comparative study of wine prices in different countries (a bottle of red wine in Spain costs 3.65 pounds, around 5 €) among other data.
Lastly, the British wine purchaser said, "Spain has fantastic possibilities for exports". He also stressed not to copy brands but rather emulate them. "It is necessary to have people try wine, create enthusiasm with the customer and use tourism and Spanish culture to sell wine", he said. "Spain has a great variety of wine and this wine offer can become richer for everyone", he added.
CAVA, SHERRY AND RIOJA, THE MOST IMPORTED
According to the prestigious British journalist John Radford most imported Spanish wines into the United Kingdom are "cava", sherry and Rioja. "Cava is the wine most sold outside Spain. Few people know it is a Spanish wine," he said. "The three wines always associated with Spain are: Rioja, Rioja and Rioja" he joked. Rioja is the only well known wine. In the same way, the second wine associated with Spain is sangria.
Radford pointed out "in Spain there is a wide range of very good quality wines". He added Spain is good value for money and that is what, according to the journalist, "Spaniards do astonishingly well".
The wine critic also mentioned the three types of consumers: the fundamental and most important one, the housewife, next the enthusiast and finally the wine lover.