ERP is the ideal platform for e-commerce in wineries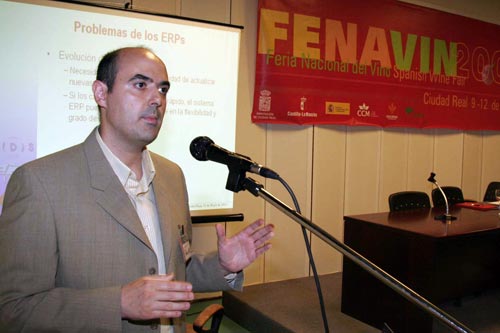 Jesús Damián García-Consuegra in FENAVIN
10.05.2005 |
Jesús Damián García-Consuegra, telecommunications engineer and teacher at the Castilla - La Mancha University, spoke about "Why an ERP (Enterprise Resources Planning) and how to choose one" stating clearly that it is the ideal platform for the wineries e-commerce.
With this conference, his aim was to open and contribute to the debate about the need of an ERP and what it can offer to wine businesses. To his end, he introduced what an ERP is and made an outline of its current capacities.
ERP's, like any software, are subject to continuous updates, due mainly to technological evolution and also to development of sectoral solutions. This evolution has brought about a more modular and flexible system.
García-Consuegra explained how Spain is still reluctant to introduce ERP's and penetration of the software is not as strong as in other countries although ERP's improve business processes because they are more structured and rationalized. They also improve resources, access to information and, what is more important; it is the ideal platform for e-commerce in its inter-organizational aspect.