Round Table "the pleasure of the senses": "Wine is a vehicle for pleasure, culture and friendship" for Custodio L. Zamarra.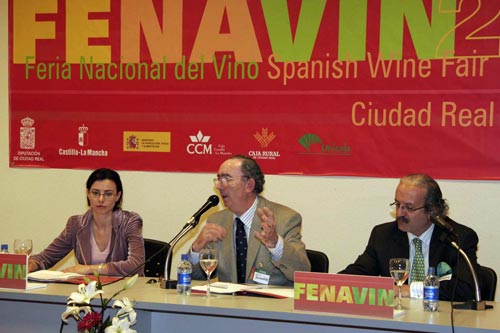 09.05.2005 |
Custodio López Zamarra, sommelier at the "Zalacaín" restaurant in Madrid stated "wine is a vehicle for pleasure, culture and friendship", at the round table "the pleasure of the senses: wine at the restaurant" which was held with the oenologist, expert in sensorial analysis, Jesús Flores and the sommelier of the Casino de Madrid Terrace, María José Huertas.
The sommelier said that "wine is a vehicle for pleasure because when enjoying a very good wine, it gives pleasure; it is a vehicle for culture because wine is present in all civilizations; it is a vehicle for friendship because all celebrations include wine. This is the most important drink in the world".
As for María José Huertas, agronomist and food and agriculture industry specialist, she stated that in her experience as a sommelier, short but intense, she has appreciated the "rise of the profession, knowledge about wine and anything that surrounds it". "The problem is twofold: in Spain there is not enough training and, on the other hand, being a sommelier is thrilling but very demanding" she added.
Huertas also explained "in the past few years, interest for wine has increased at all levels (wine industry, press, wineries) and the world of wine has evolved very quickly. The sommelier must know about wine as our work is very important to make the customer enjoy"
CANNOT IMAGINE A RESTAURANT WITHOUT A SOMMELIER.
Custodio L. Zamarra added, "the sommelier is fundamental for the restaurant. I cannot imagine a restaurant without a sommelier having an in-depth knowledge of wine".
Jesús Flores, director of the magazine "Vivir el vino" and oenologist pointed out "in the last quarter of a century wineries have adapted to the consumer taste". In the same way, he stated that sommeliers have to be humble and potential psychologists. "It is necessary to know how to give advice to the customer and work out what he/she prefers". He added, "sommeliers sell pleasure".