"At the restaurant, wine is too expensive", according to journalists César Lumbreras and Iñaqui Cano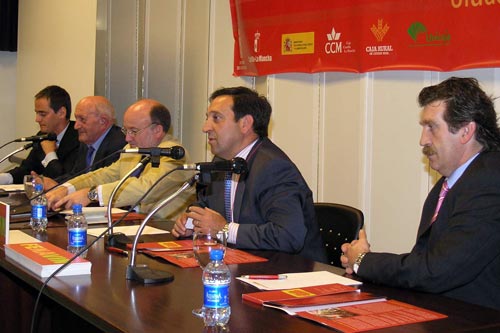 09.05.2005 |
The journalists César Lumbreras, director of Agropopular and Iñaqui Cano, sports commentator in TVE agree, "wine in restaurants is too expensive". They made the comment this afternoon during the round table "wine prices as seen by the consumer" within FENAVIN, an event organized by ASAJA.
The round table counted on the presence of the president of ASAJA, Pedro Barato, Daniel Serrano, Managing Director of the magazine "Vivir el Vino" and Alejandro Fernández Pesquera, owner the Pesquera winery.
Pedro Barato stated, "on the one hand, we know the cost of wine and, on the other hand, we know the ones who suffer the price of wine. In this round table we will try to reach a fair arrangement and try to do things the right way". "I have always been in favor of equilibrium". "The most expensive wine in the world should not cost more than 30 €", he added.
Likewise, Barato advocates for "positive discrimination", i.e. a good wine has to be more expensive, the same way a good grape has to be more expensive".
As for the COPE (radio station) journalist, C. Lumbreras, he says his impression, as a consumer is "if we compare the price of the grape with the price of wine at the restaurant, the increase is substantial".
Likewise, the sports commentator has asserted margins at the winery (where a bottle can cost 5€) compared to margins at the restaurant (30 €) should be more reduced. Cano says, "FENAVIN is a very interesting trade show. I did not know there were so many wines and so good in this fair. I will be happy to come back", he concluded.