The president of the Federación Nacional de Profesionales de Sala (National Federation of Restaurant Professionals) highlights the importance of comprehensive training in order to improve service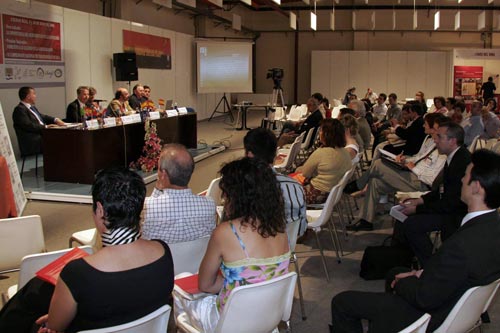 Photograph of the round table
Mariano Castellanos, president of the Federation, stressed FENAVIN's importance for the associations of restaurant professionals.
09.05.2005 |
The president of the Federación Nacional de Profesionales de Sala, Mariano Castellanos, highlighted how, since the first edition, the role played by the National Wine Fair, FENAVIN, helped the set up of the Federation as the existing five associations at the time met there and this helped give a push to the Federation.
The Federation organized a round table within FENAVIN 2005 where professionals from different countries have analyzed the importance for the restaurant industry of quality service to the customer. The director of Innovation and Development of Paradores Nacionales, Emilio Gómez Calcerrada, the director of the restaurant El Bulli, Julio Soler, the vice-president of the Georges Baptiste International Cup, Louis Robert and the director of Coordination of Portuguese Restaurant Trade Schools, Paulo Reves participated in this event as well as the president of the Federation himself and the famous journalist and gourmet Lorenzo Díaz, who was chairing the round table and who praised the work of the maître, a profession not always enjoying recognition.
According to Castellanos, many years ago, the restaurant industry enjoyed high professional standards and users expected excellence in service, even if doubting the cooking quality. Later on, restaurant professionals standards fall and this has a negative impact on the industry.
The president of the National Federation of Restaurant Professionals thus stresses the importance of adequate training for young people who want to work in the industry. As Mariano Castellanos explains, both existing schools and teachers working in those schools are very good but "they do not have time to teach properly as a 5 year course has now been reduced to 1 or 2 years"
On the other hand, Castellanos is celebrating the creation of a new Association of Restaurant Professionals in Toledo that joins the existing ones in several provinces and Autonomous Communities.
In the same way, within FENAVIN, the Federation will celebrate the II National Championship of Restaurant Professionals, in the Dionisos pavilion, this Tuesday, May 10th, at 10 AM and will present the awards "Promotion of Quality in the Restaurant Industry" at lunch time, 14.30 hours, on 10th of May, at the Hotel Paraíso.