Women oenologists from America and Spain analyzed tastes and styles, as far as wine is concerned, in different parts of the world, during this first FENAVIN day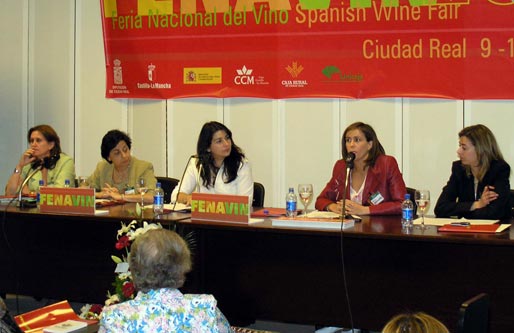 09.05.2005 |
The Uruguayan oenologist, Estela de Frutos, made it clear during this first day at FENAVIN 2005 that there is no accounting for tastes as far as wine is concerned and she asked herself if "wine becomes trendy or somebody makes wine become trendy"? And talking about the Uruguayan taste for Tannat, she said that a true Uruguayan like the tango singer Carlos Gardel, made it fashionable. Together with De Frutos, at this round table were the Argentinean Cristina Pandolfi, the Spanish Susana López and Silvia Tomé, together with the journalist from Efe - Agro Anabel Pascual, coordinator of the event "Wine tastes and styles nowadays in the world according to women oenologists".
In this event, the famous four oenologists from America and Spain tried to, as far as practicable, set bounds to the type of existing consumers and the type of wine they prefer. "FENAVIN is the right setting to talk about these things and manage an active debate between the European vision and the one from the other side of the Atlantic ocean, as FENAVIN gathers national and international wineries and foreign buyers whose contributions can be of great value" said Anabel Pascual.
Estela de Frutos, agronomist and oenologist for the winery "Los Cerros de San Juan" in Colonia de Sacramento (Uruguay), when her turn came, she stated that "there is no accounting for tastes and I wonder whether wine becomes trendy or someone makes it become trendy". She gave the example of the film "Entre Copas" which had the pinot brand appearing in the film sold out and she gave another Hispanic reference when she mentioned the Uruguayan Carlos Gardel, ""Tannat" lover, who promoted it during his performances". Afterwards she made an audiovisual presentation promoting "Tannat" as the wine from Uruguay.
For De Frutos, "the value of creativity is the engine", and she also mentioned that life is harder and harder for oenologists when they want to make a wine the consumer is going to like, traditional but with young attributes, i.e., they want everything, because Uruguayan tastes are divided into two main groups: on the one hand, the fruity and young, which are the easiest to drink, and, on the other hand, vintages with more body and more complex". De Frutos, who is consultant for Promoción y Desarrollo del Instituto Nacional del Vino (Promotion and Development of National Institute of Wine) (INAVI), stated, "the universal wine taste in Uruguay is "Tannat", accompanied by a good grilled steak or a stew".
The agronomist Susana López talked about her experience in wine making for Bodega Pago del Vicario in Ciudad Real. She explained "the effort into creating a product with its own personality, capable of attracting an international consumer, offering a predominantly fruity wine. That is where we place our winery with a modern and attractive image". López insisted "the immediate future is to join local varieties with foreign ones, thus giving an attractive image of the product".
As for the oenologist Cristina Pandolfi, director of the Instituto Nacional de Viticultura de Argentina (National Institute of Viticulture of Argentina) and international judge of OIV, she analyzed Argentinean wines, and she agreed with De Frutos that "wine grows in vineyards, and that is why 30% of Argentinean ones had to be revised". She added that wine in Argentina is a connection between vine tradition and the new emerging countries".
The oenologist, Silvia Tomé, from Bodegas Victoria (Cariñena, Zaragoza) explained consumption figures in Spain for 2004. These show "a slight decrease" and she also talked about the current wine market from a marketing point of view. Tomé explained the wine consumer profiles; the type of shops where wine is can be bought, market share amongst other topics which are of interest to the wine sector.