Around 400 importers work from the FENAVIN Business Center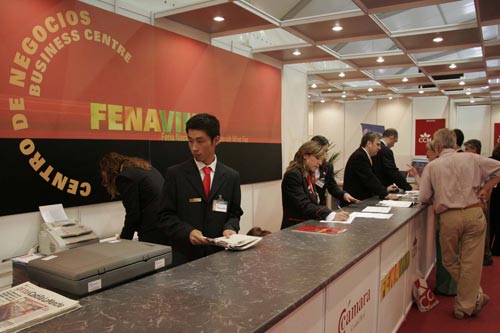 Thanks to the close cooperation between Ciudad Real Provincial Government and the Official Chamber of Commerce.
09.05.2005 |
Around 400 importers from 23 countries have gathered in Feria Nacional del Vino (National Wine Fair) – FENAVIN – from Germany, Northern countries, United Kingdom, United States, Japan, China, Czech Republic, Poland, Netherlands and Mexico, amongst others. They are working from the FENAVIN Business Center, aware that they are participating in the most important Spanish monographic fair.
More specifically, the countries present in FENAVIN during four days and making business contacts with exhibiting wineries are: Holland with 15 importers; Norway, 8; Sweden, 12; Ireland, 5; united Kingdom, 36; Czech Republic, 25; Poland, 30; Belgium, 10; Denmark, 7; Finland, 7; Austria, 8; Slovenia, 1; Lebanon, 7; Brazil, 18; Mexico, 20; United States, 50; Japan 25 and China, 25.
From the beginning, FENAVIN has always backed a clear professionalization of the sector, its international vocation, boosting the Spanish wine offer and improving the fair continuously.
During this third edition of Feria Nacional del Vino (National Wine Fair) -FENAVIN-, both the trade show and its links with internationalization, the Business Center, look forward to consolidating and strengthening services and increasing the number of participants.
Compared to previous editions, FENAVIN 2005 Business Center is more modern and bigger. It is the appropriate private area where importers and Spanish winemakers can get closer, reach business agreements and promote our wines in the whole world. It has a wide range of services available for the exhibitor to start, develop and strengthen his / her presence on international markets, with the help of technical and human resources which ease and make possible their business deals.
FENAVIN is an international reference point, a must for the sector, a fair taking place in one of the most important wine producing areas in the world. In essence, FENAVIN 2005 works along the same lines as the two previous editions, without introducing revolutionary elements in what has worked before in a practical and realistic way, but adding new elements to improve this major trade show.
FOREIGN TRADE PROFESSIONALS.
Going beyond the basic concept of reverse mission, the Business Center is a unit in itself, equipped with technical and human resources. Updated information about exhibitors present at the show was sent to potential importers and exhibiting wineries received a list of all registered buyers. This previous exchange of information eases possible contacts before the fair that, later on, during the fair, might prove to be fruitful for all parties taking part in the process.
The organization has a team of foreign trade professionals who create a suitable area where all professionals from the wine sector can meet during the National Wine Fair. FENAVIN is a fair where internationalization plays a key role to turn it into a point of reference and a must for all wine professionals and quality wine lovers.
The support of the Chamber of Commerce and the Provincial Government makes possible the presence of a great number of foreign buyers. A good coordination of both institutions is necessary to develop contacts with agents and companies that are specialized in the sector, as well as with Spanish trade offices abroad. These contacts are paramount to do a search of potential customers for exhibitors who have trusted FENAVIN's potential.
It is a meeting point where business meetings between exhibitors and professionals present at the fair can happen, supported by the adequate infrastructure that guarantees success and perfect functioning.
BUSINESS CENTER SERVICES
Amongst other services, the Business Center counts on a common area with internet connection and printer, a rest and reading area, private offices to carry out business agreements, ward-rope, trilingual hostesses English-German-French, fax-photocopier, technical support and company internationalization (customs, transport, payment terms, documents, negotiations, contracts, amongst others) and control of exhibitors and importers, distributors, specialized press and foreign agents who have been invited to FENAVIN.
In short, a unique opportunity for exhibitors to start, enter and /or consolidate our presence in foreign markets, without traveling and offering on site our products to be tasted, show new price lists, present our company, negotiate and carry out business agreements.
The wine world and the most important national and international media are present in this Business Center to give prestige to wine and to win new markets.