José Ribagorda: "FENAVIN is a point of reference for all wine lovers"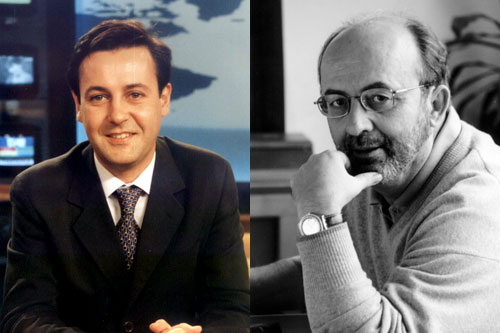 José Ribagorda, Lorenzo Díaz
The culmination of the fair will be carried out by the TVE journalist and Lorenzo Díaz with his own "Tribute to Wine", on May 12th.
03.05.2005 |
Within the III Feria Nacional del Vino (National Wine Fair) FENAVIN 2005, on May 12th, there will be a conference where the assistant director of the television program "Los Desayunos de TVE", José Ribagorda, and the journalist and writer, author of the book "La Cocina del Quijote", Lorenzo Díaz, will discuss the " The joy of life: paying tribute to Wine" using various viewpoints. Adolfo Muñoz, Jesús Velasco and Ana Cantarero will also participate in the discussion as well as prestigious winemakers and restaurant owners.
Ribagorda explains how he saw FENAVIN start and grow with each edition until it has now become "a point of reference for all wine lovers". For this journalist, the fair has been the occasion to learn a great deal and discover new things about oenology, apart from being the best showcase to make wines from La Mancha popular and to praise and promote them.
José Ribagorda, who is "honored to be part of and cooperate with any wine promotion in general, and the La Mancha wine in particular", states that the talk he will be coordinating will focus on the role of wine in a fortifying lunch or a good dinner. The aim is to learn about wines but also to dignify the role wine plays, helped by the point of view of the other participants: Adolfo Muñoz, Jesús Velasco and Ana Cantarero, and professional winemakers and restaurant owners.
For this journalist, an excellent meal would not be worth it without a good wine, without reaching the perfect gastronomic combination, from sparkling wines to start with to sweet wines as culmination. For him, wines are color, emotion, the antithesis of food. All of it, will be discussed from a playful angle and "even and amusing one" thus turning the talk into an entertaining event for all wine and gastronomy experts and any interested bystander.
CHANGES IN COMSUMPTION HABITS
As for Lorenzo Díaz, Premio Nacional de Gastronomía (National Gastronomy Award) and author of various books about wine and gastronomy, he thinks FENAVIN has become the most important rendezvous of the wine world and culture in our country and this year it will go beyond the geographic boundaries of Castilla - La Mancha to become a national and international reference point.
Famous restaurant owners will participate in this round table and discuss the wine culture with special prominence for the wine owners from La Mancha, such as Adolfo Muñoz, "Adolfo" restaurant in Toledo, Jesús Velasco, from "Amparito Roca" in Guadalajara, who are the main features of the "perestroika" of the La Mancha gastronomy of the past decade. There will be discussions about signature wines, wines for new emergent strata. Furthermore, Ana Cantarero, prestigious oenologist and winemaker and the author of "Quercus" and "Dueto" wines also participate in the discussion.