Female Oenologists from different countries around the world will analyze wine tastes and styles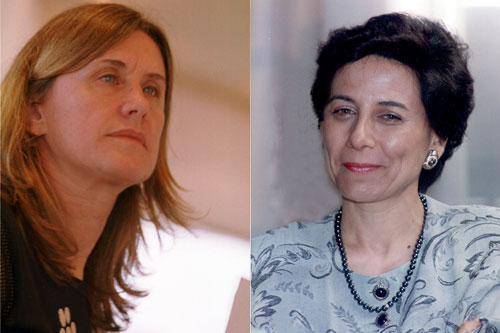 Estela de Frutos, Cristina Pandolfi
At the National Wine Fair, FENAVIN 2005, which will take place from 9th to 12th of May in the Ciudad Real Fair Pavilion.
02.05.2005 |
The Uruguayan Estela de Frutos, the Argentinean Cristina Pandolfi, and the Spaniards Susana López and Silvia Tomé, together with the journalist from Efe Agro Anabel Pascual will participate in the round table "Wine tastes and styles in current world according to Female oenologists" within the National Wine Fair, FENAVIN 2005, which will take place between 9th and 12th of May in the Ciudad Real Fair Pavilion.
The round table coordinator Anabel Pascual, head of department in Efeagro and responsible for wine contents, says that "wine, like any other foodstuffs, is produced to be sold, consumed and to procure pleasure. To find out what the consumer wants, when facing low consumption figures and despite the increase in the percentage of quality wine, is a difficult task especially taking into account the fact that consumers are different and scattered, and they do not have the same tastes."
Notwithstanding, this round table "Wine tastes and styles in current world according to female oenologists" has a mission, with the help of four prestigious oenologists: to reach a conclusion and set bounds to the type of existing consumers and their wine preferences. "FENAVIN is the appropriate setting to talk about the subject and manage, after the presentations, an active debate as there will be, from 9th to 12th of May in this fair, national and international wineries and foreign buyers whose contribution can be very valuable" says Pascual.
Thus, the agronomist Susana López will explain her experience in wine making in Bodega Pago del Vicario de Ciudad Real. Likewise, she confirms she will talk about "the effort geared towards creating wines with their own personality, capable of attracting an international consumer by offering wines with a predominance of fruity characteristics. That is where we find our winery "Pago del Vicario" with a modern and attractive image".
THE SITUATION OF WINES FROM ARGENTINA
As for the oenologist Cristina Pandolfi, Director of the Instituto Nacional de Viticultura de Argentina (Argentina's Viticultural National Institute) and international judge for the OIV (Organización Internacional de la Viña y el Vino- The International Organization for Vine and Wine), she will analyze the Argentinean wine situation and its evolution in the past 15 years. "Great changes in the wine sector have taken place as we have made a giant step towards the qualitative vineyard away from the quantitative" she explains. "We have improved our technology, our vineyards and wineries and we are obtaining quite interesting wines", she adds.
According to Pandolfi, who is also an agronomist, the main Argentinean wines are Malbec and Torrontés white. This last variety has a very peculiar aromatic intensity where fruits and flowers are predominant. It is common is the northeast of Argentina. The Malbec variety shows intense aromas, purple color and pleasant taste.
The oenologist and author of several wine research works says that "Argentineans like mainly red wines, very fruity with a touch balanced wood. We like to drink pleasant wines when eating roasted or barbecue meat in the company of friends at the weekend"
THE TASTE OF URUGAYANS
Estela de Frutos, agronomist and oenologist for the winery "Los Cerros de San Juan" in Colonia de Sacramento (Uruguay), says that "Uruguayans have two major groups: on the one hand, young fruity wines which are easy to drink and, on the other hand, vintage wines with more body and a more complex structure".
De Frutos, advisor for Promoción y Desarrollo del Instituto Nacional del Vino - Promotion and Development of the National Wine Institute - (INAVI), states that "the universal wine in Uruguay is "tannat" which is drunk with barbecue meat or stewed lentils". Although there are emblematic varieties in Uruguay like red Cabernet Sauvignon and Merlot and white Chardonnay or Sauvignon Blanc. "Inherited from the Spaniards we also love the muscatel, especially from the Canary Islands, the first settlers in Montevideo" she explains.
CURRENT WINE MARKET
The oenologist, Silvia Tomé, will talk about consumption figures in Spain during 2004. "These show a small decrease" and she will also refer to the current wine market from a marketing perspective. Tomé will explain what the wine consumer profile is, the type of shops they buy from and the market share, amongst other interesting subjects for the wine sector.
Likewise, Silvia Tomé, Technical Director at Bodegas Victoria (Cariñena, in Zaragoza), will evaluate the consumer trends and tastes. In this respect, she highlights: "there is a tendency to consume fresh white wine with less wood, and local varieties like Verdejo or Albariño. The consumers also tend to buy fruity and reds with a touch of oak. On a world scale, varieties like Garnacha or Syrah are now popular.