Professionals can taste some 700 brands at the FENAVIN Wine Gallery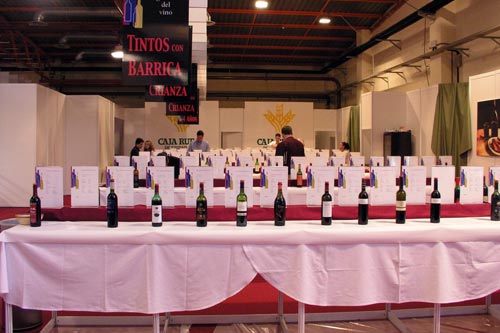 FENAVIN 2003 Wine Gallery
The length and breadth of 1400 square meters
29.04.2005 |
The III Feria Nacional del Vino (National Wine Fair) FENAVIN 2005, will hold an impressive Wine Gallery in the Dionisos Pavilion with 1400 square meters, first floor, which will be the biggest ever shown in Spain, displayed in a well-organized way and with the appropriate conditions and temperatures for each wine. This implies a major logistic effort. Over thirty people will work at the Gallery, which started with FENAVIN 2003 and this year doubles the allocated space and offer, reaching some 700 brands.
The Wine Gallery will be located in the Dionisos Pavilion and it is designed to facilitate wine tasting for professionals participating in the fair. This way, visitors will, without needing help, be able to taste any of the almost 700 brands offered by the exhibitors.
The famous oenologist Vicente Sánchez-Migallón is the coordinator of the Wine Gallery which he defines as "the live tasting of brands exhibited at the fair with detailed information". In FENAVIN 2005, apart from doubling the amount of brands and exhibition space, the wine quality has been noticeably improved and, furthermore, because there was much demand, there was a need to limit the number of brands.
NOTEBOOK IN HAND
Visitors will be able to taste the wine and take notes, in a notebook handed over to them when entering the Wine Gallery, of all the required information which will be available together with the wine. Basic information about the brands, such as appellation, vintage, winery owner, stand location, aging in the bottle or cask, amount produced and, of course, retail selling price will be available.
This way the visitor who is interested can go directly to the stand of his choice to get information or negotiate with the winery or cooperative representative in question.
Brands supplied by the exhibitors and all their basic information will be displayed in logical order. According to Vicente Migallón "brand exhibition will depend on the type of wine. They will be displayed in the following order: whites, rosés, young reds, vintage reds, and others"
IMPORTERS, PROFESIONALS AND AMATEURS
The Wine Gallery can be visited by importers, in order to give them an overall idea of the wine and enable them to make a previous selection of the different brands; by professionals, as oenologists and sommeliers can taste all the wines they want and enjoy their aroma and taste; by amateurs and wine lovers who have the opportunity to get to know all the wine on exhibition in the Gallery aided by all the comprehensive information supplied.
"This is a unique opportunity to taste wines on exhibition in FENAVIN without any interference from anyone and without getting in anybody's way, adds Sánchez Migallón.