Nick Room: "Fairs like FENAVIN are great places to make business contacts"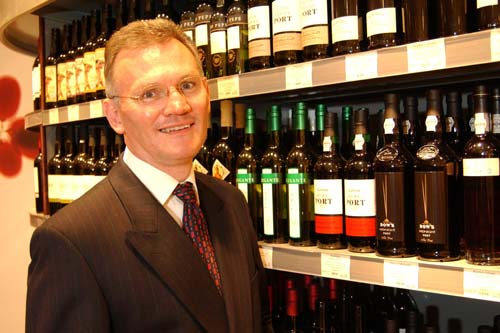 The buyer of Spanish wine will be in FENAVIN 2005 which will be held from 9 to 12 of May in the Ciudad Real Fair Pavilion.
20.04.2005 |
The buyer of Spanish wines from the United Kingdom, Nick Room, assures that "trade shows like FENAVIN are great places to make business contacts, reunite with old friends and meet new ones" Room will participate in Feria Nacional del Vino (National Wine Fair), FENAVIN, which will be held from 9 to 12 of May in Ciudad Real Fair Pavilion, where he will talk about his experience in selling Spanish wine in the Waitrose supermarket group .
Room believes "buyers are under enormous pressure in this type of event because the majority of exhibitors believe their wines should be tasted and therefore bought by the buyers' companies". He also adds "Retailers are relatively short of space, they lack room for the new wines and therefore we must be very selective"
The Briton states that it would be of help if the exhibitors have an idea of what the buyer might be looking for. But, of course, in such international events the exhibitor cannot know in detail the list of buyers' shops. "As for me, I like to visit as many stands as possible, taste wines, take notes and revise them when I go back to the office, get as many samples as necessary to taste again, before making a decision on new listings", he explains.
TRADE FAIRS, VALUABLE KNOWLEDGE
"Trade fairs provide valuable knowledge to the industry and I hope to compile a lot of information about Spanish wines" Room confirms. "The exhibitors who have some knowledge of the UK market and might already have an importer working with his wines in the country have a better opportunity to catch my attention than others who have no representation. Notwithstanding, occasionally we find small producers with fascinating wines and it might be very profitable to discover and market those" he assures.
In this respect, Nick Room recommends the exhibitors who want to make the most of the presence of British importers in FENAVIN "not to be disappointed if I do not place orders straight away. Frequently, with new contacts and including the already established one, it take some time until information reaches retailers".
Room thinks Spain has a lot of attractive areas for wine production as well as a unique opportunity to promote diverse and regional wines. "the various wine producing areas do their best to promote Spanish wines but their budgets must be increased to cover the different appellations" he states.
SPANISH WINE IN THE UNITED KINGDOM
When speaking in FENAVIN 2005, Nick Room will explain how to sell wine through importers. Likewise, he will talk about direct sales; what the Spanish wine needs to be successful in the United Kingdom; points of sale (specialists, supermarkets, mail-order selling, etc…), how Waitrose buys and the opportunities for Spanish wine in England.
Nick Room has been working for Waitrose for 17 years, in the Wine Department. During most of that time, he has worked in the Buying Department and the Mail-order Selling Department. Room is currently responsible for wine purchasing from several countries: France, North and South America, East Europe, Austria, Portugal and Spain.
The Waitrose Group, chain of specialized food shops, owns 166 supermarkets in England and Wales, with some 35 000 employees. These superstores have a wide range of products where quality is paramount. Waitrose has a promotional program covering all the aspects of the range. Its wine selection is an award-winner due to its diversity and for being good value for money.
Lastly, Room believes "it is pity Spain does not have a better market in the biggest importing countries". "The truth is the UK wine market is intensely competitive and the offer from the New World is very strong. Spain does not have many brands and the wine business these days seems to be obsessed with brands from countries like Australia, Chile and South Africa" he concludes.
Proodevo, Spanish company whose objective is to favor the exports of Spanish wine abroad, cooperates with FENAVIN to ease contacts with key players in wine sector, as was the case with the British buyer Nick Room.