"Future prospects and growth potential for trade of Spanish wines are enormous"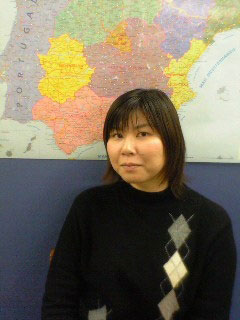 Hiromi Kono, FENAVIN's representative in Japan
According to FENAVIN's representative in Japan, Hiromi Kono
25.02.2005 |
FENAVIN's representative in Japan, Hiromi Kono, thinks that "future prospects and growth potential for trade of Spanish wines are enormous". "Although Spanish wines still have some way to go in order to reach the international recognition they deserve. It is important to note that research and technological innovation play a very important role when we think of improving the wine quality and therefore its commercial value", she adds.
Hiromi Kono explains that in the Japanese market there is now a great variety of wines, if we consider their origin, type of grape, different qualities and prices but, within this great variety "the ranking of Spain in general and the image it gives is, unfortunately, of a lower than deserved level".
"It is necessary, therefore, to continue with the competitive efforts the Spanish wine sector has underway and which are aimed at improving the quality of their wines and look for means to make known the Spanish wines with highest quality to the Japanese consumers". She adds.
GIVING A GOOD IMAGE
As far as Japanese importers are concerned, the Company image in terms of serious and rigorous standards is just as important as the wine quality itself. That is why the FENAVIN's representative in Japan recommends "to make the utmost in order to give this good image" and thus make the most of the presence of those Japanese Importers at the FENAVIN's Business Center.
On the other hand, and since Japanese people are not very communicative, "while they are present at the trade show, it is advisable to ask questions in order to get first hand information about their impressions regarding the wines, their company's activities and the Japanese market in general" Kono explains.
Most of the Japanese buyers who will attend FENAVIN 2005 are importers-distributors specialized in wine and alcoholic beverages, "as, in Japan, a special license is required in order to import alcohol" says the Japanese representative. Quite a number of them are importers specialized in Spanish wines only, "a wine buyer from a supermarket chain, a sommelier or a journalist from the specialized press might as well be invited" she informs.
Hiromi Kono thinks that, at the moment, there are quite a number of promotional activities being carried out by the different Spanish production areas, " but these are still not enough and sometimes the drawback is that they try to include too big an offer and thus, highest quality wines are diluted and do not sufficiently stand out".
As well, it is not beneficial for Spanish wine in general to carry out the promotion focussing on one Autonomous Community or on one appellation only. This dilutes the resources, confuses the consumer and gives an image of internal competition. She recommends " to try and create a better image of the Spanish wine in general and, when in need of focussing on something more specific, try to do it by wineries o grape variety".
Finally, Hiromi Kono, states that, in order to attract Japanese importers and consumers, it is important to organize "activities like, guided wine tasting events, seminars and presentations of new wines or vintages, which should be carried out in Japan, with sommeliers, well known restaurant owners, trying to have a far-reaching effect with the help of the press. These would be the most efficient methods".