Nemesio de Lara and Zhong Desheng sign an important agreement in Beijing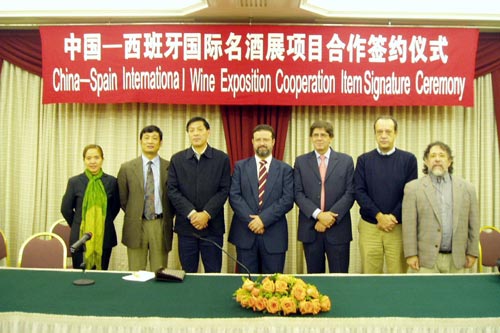 Signature of agreement between the two fairs
The trade co-operation agreement between FENAVIN and W&T Expo now ratified.
09.11.2004 |
The president of Feria Nacional del Vino (FENAVIN), Nemesio de Lara and the Director of the Chinese Internacional Wine and Technology fair (W&T Expo), Zhong Desheng, have ratified on 9th November 2004, in Beijing, the business co-operation agreement between the two trade shows.
With the presence, on the Chinese side, of the president of the National Wine Association, its vice-president, and numerous mass media, the final agreement was signed. This document commits both fairs to exchange institutional stands during their respective trade shows and to stimulate commercial exchanges between the Spanish wine offer and the Chinese demand.
On the Spanish side, FENAVIN was represented by its Director, Manuel Juliá and the Fair of Ciudad Real technical adviser, Alain Kelepikis. Also present, was the first vice-president of the Local Government of Ciudad Real, Angel Amador.
Both sides agreed that this was a historical agreement as it is the first time that the Spanish wineries participating in FENAVIN will be able to establish direct contacts with the officers of a Chinese trade show sponsored by the Chinese Council for the Promotion of Foreign Trade. The Chinese delegation will be led by Zhong Desheng himself.
The perfectly segmented Spanish wine representation, with very good value for money, is of great interest for the Chinese commercial agents and called the attention of the Chinese representatives responsible for the sector. This happened at the FENAVIN stand and during a wine tasting event organized by FENAVIN last June where 5 wines of different origins were tasted and discussed.
It is important to stress that the Chinese demand for wine may represent some 200 million potential consumers for 2008 when Beijing will host the Olympic games. Therefore it is paramount to use the adequate means for the promotion of this product.
According to all the experts which were consulted and the officers present at the solemn signature of this Trade Co-operation Agreement, the two young and dynamic fairs represent in a perfect way and respectively, a generous offer and a demand which can be defined as insatiable. The time for wine has come to China.
The frantic westernization of China and its traditional taste for good food corroborate this statement.
Wines from Spain and Castilla-La Mancha are now in a better than ever position to take advantage of this unstoppable tendency and be present, in the best possible conditions, in the next W&T Expo in November 2005.