The FENAVIN website is now online in Russian, Mandarin Chinese, Japanese and Hindi to cater for the growing demand for information from these markets.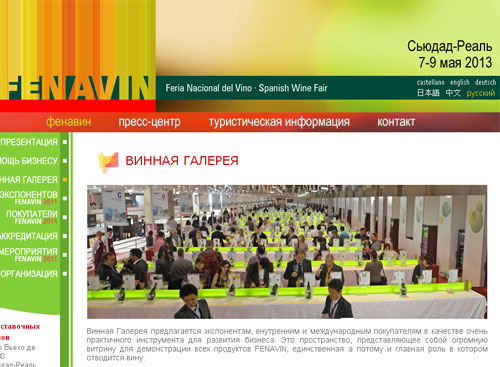 www.fenavin.com is making its website accessible to potential buyers planning to attend the Fair from these countries, as well providing an information resource to growing markets for Spanish wine
15.01.2013 |
Page view statistics from the FENAVIN website www.fenavin.com show the growing interest in the National Wine Fair, and the huge information resource it provides about Spanish wine, from China, Russia, Japan and India. To cater to this demand the Fair management has translated the contents of its website into Russian, Mandarin Chinese, Japanese and Hindi. It is already available in German and English.
FENAVIN has noticed a large amount of traffic from these countries, in which wine consumption is increasing. They have also contributed a large number of buyers to the six previous FENAVIN events.
For example, 42 Russian companies have visited previous fairs and buyers from Russia, Kazakhstan and Belarus are expected at the 2013 event. Russia alone has 142,905,200 inhabitants and the fair organizers expect the Russian translation of its website to benefit Russians, Kazakhs and Belarusians as well as buyers from former Soviet states that also speak Russian.
Since 2005, 133 Chinese companies have visited FENAVIN, including a remarkable 82 during the 2011 event, along with 30 from Hong Kong. This year the aim is to attract a larger contingent of buyers from the region. Their importance is highlighted by the fact that China alone has 1,339,724,852 inhabitants.
From Japan, 146 companies have attended since 2001. This year the Fair is working with the highest quality buyers and distributors in Japan to help them to achieve their business objectives during the 2013 event.
FENAVIN was the first Spanish fair to bring in buyers from India interested in Spanish wine. India is a growing market for wine with 1,241,492,000 inhabitants.