Tasting session of Montilla-Moriles Designation of Origin wines paired with signature Cordova tapas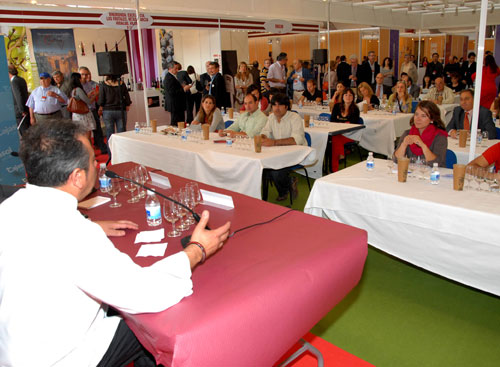 10.05.2011 |
Today at Fenavin the Secretary of the Montilla-Moriles Designation of Origin Regulation Councils, Manuel López Alejandre and Matías Vega, manager of the restaurant Casa Matías, presented two pairing sessions with Cordova wines and tapas.
Four representative wines of this region have been selected for the occasion - Fino, Amontillado, Oloroso and Pedro Ximénez- which have been harmonized with traditional and regional dishes of the Cordovan cuisine, all prepared by the restaurateur of Casa Matías, which is located in Cañete de las Torres.
With the hall full to the brim, López Alejandre first made a brief presentation of the Montilla-Moriles Designation of Origin, which was created in 1945, covering a vineyard surface of 6000 hectares with a production of more than 26 million liters, mainly Fino and Pedro Ximénez. First of all a tasting session with each wine took place, to then continue with the creative tapas that Matías Vega had prepared, who in turn explained all the ingredients and preparation of each tapa in great detail.
The session kicked-off with the Fino wine, defined by López Alejandre as "the wine of the tapa", perfect for pairing with difficult dishes, which was combined with cream of Cordovan salmorejo, in the company of egg and a piccolino of Ibérico ham. The Amontillado, a powerful wine in aromas and persistent in mouth, was paired with a suckling pig meatball on a bed of cream of potatoes topped with piquillo peppers coulis. The oloroso wine, characterized by its oxidative ageing that contributes very special notes to the wine, was combined with a mini-hamburger of oxtail stew with baby onions and Ibérico belly bacon. The Pedro Ximénez wine, an aromatic sweet raisin wine with date, dry apricot and sultana aromas, a true delight for the senses, was chosen for the finishing touch, pairing it with a Cordovan cream made with meringue milk, rice and sponge cake on a bed of gelatin prepared with this emblematic wine.