More than 600 organic still and sparkling wines of the country have been included for the first time ever in 'Vinum Nature', a practical guide for the consumer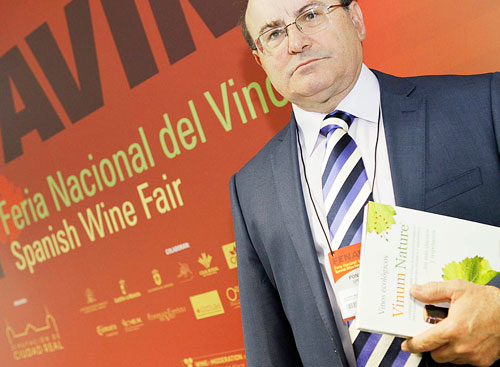 At FENAVIN this year the author and promoter of this new editorial feature, Pablo Chamorro, demystified the existing taboos, pointing out that the quality and price of these wines have worked in favor of organic wines, which have reaped in numerous recognitions at both a national and international level
10.05.2011 |
A total of 626 ecological wines and cavas of the country have been included for the first time ever in the 'Vinum Nature' guide, which was presented yesterday during the first day of the National Trade Fair on Wine, which will continue until May 12th, the same at the Ciudad Real trade fair grounds. The promoter of this new editorial feature and Director of Ecomundi, Pablo Chamorro, talked about the interest that the professionals of the wine sector and of organic products have shown in this guide book, to then immediately demystify the taboos that exist in that pertaining to these products. The same "which are neither more expensive, nor are they lacking in certain substances, but in fact quite the contrary, as they express the terroir in which they were born, with all the minerals and healthy components of wine," the lecturer underlined.
This guide book, with a total of 70 pages, is practical and easy to use, representing a compendium of all the wineries and companies that produce organic wines. The same including a catalogue of the country's organic wines with scientific references, studies and essays that come to support the fact that organic wine is a premium quality, healthy product, having gained in quality in the last four or five years, and being recognized at both a national and international level. On the other hand, Pablo Chamorro also reminded the audience that in just two years the vineyard surface dedicated to cultivation of organic wine has tripled.
The founder of the winery Bodegas Begastri in Murcia, Alfonso Marín, also participated in the activity. Alfonso Marín started his trajectory in this world ten or twelve years ago, with the winery representing his main commercial wager. In his opinion we must back-up and support organic wine, "which is actually the wine that has always been made, even in the time of the Romans and Sumerians."
In the opinion of Alfonso Marín, Spain is the best country in the world for the production of organic wines. In his winery, they only use sulfur as a preventative treatment and natural fertilizers that are first analyzed in order to avoid any chemical residue. They also use their own yeasts in the production of their wine, "it is just like creating art, the same exact way as it has been done for millenniums, although now with the help of the latest technologies."
The Vinum Nature guide will first come out with 2000 copies and it will be sold via the Internet on the portal www.vinumnature.com and at the Biocultura Trade Fairs that will take place in Barcelona and Madrid. Those participating in FENAVIN will receive a 3 € discount coupon for the purchase of the guide book at the mentioned website. The next edition will also be available in book shops, wine shops and other direct sales points.