ASAJA will be holding its National Winegrowing Sector Meeting at FENAVIN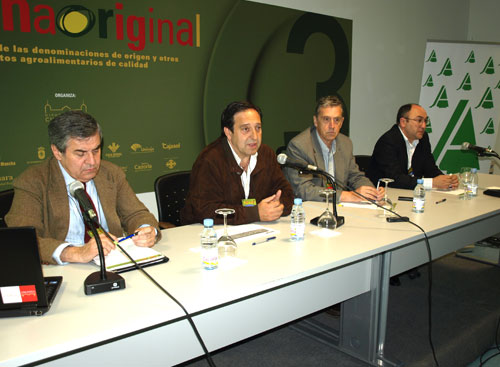 Raúl Rodríguez (i) with Pedro Barato, José Ramón Montoya and Florencio Rodríguez
A few of the most burning or trending topics will be dealt with at this national meeting, as is the case with the vineyard plantation rights, along with the conference In Favor of Sustainable Gastronomy, pairing of the Spanish Trout with La Mancha Wines that will also be organized
06.05.2011 |
The Agrarian Association of Young Farmers, ASAJA, will be holding its National Winegrowing Sector Meeting on the upcoming May 10th during the National Trade Fair on Wine of Ciudad Real, the same presided over by the farmer association's national president, Pedro Barato.
The conference will take place in Lecture Hall 3, with attendance of ASAJA's representatives from all over Spain, representing a total of about forty persons, who will be gathering together to deal with the most burning topics of the day, such as liberalization of vineyard plantation rights, foreseen to take place as of the year 2015. France, Italy, Germany (that is, the main producers with the exception of Spain), Austria, Portugal, Cyprus, Luxemburg, and Romania have all signed the petition to maintain plantation rights.
The CMO (Common Market Organization) has set 2015 as the date for liberalization of vineyard plantation, with a maximum extension of the period reaching to 2018 for those countries that desire the same. Hence in this manner the CMO on Wine has established a final date for this plant mass management system, thus eliminating the only control mechanism that existed over the plantations.

First outcome report on the upcoming campaign
The sector's winegrowing meeting will also deal with the wine producing groups, market measures, and declaration of harvests. Likewise, Asaja's National Winegrowing Sector Meeting will be analyzing the situation and issuing a first outcome report on the future perspectives of the sector and the upcoming campaign.
The ASAJA farmers' organization will have its own stand at the trade fair, located in Pavilion 4 (Osiris), aisle A-1 bis and A-2 bis, where all sorts of other activities will also be taking place during the celebration of this relevant international event, which the organization has always championed ever since its first edition in 2001.
In Favor of Sustainable Gastronomy, Pairing of the Spanish Trout with La Mancha Wines
Among the activities that ASAJA will be organizing, we have the conference In Favor of Sustainable Gastronomy, Pairing of the Spanish Trout with La Mancha Wines. The same headed by Raúl Rodríguez Sainz-Rozas, Director General of the Organization of Fish Farming Producers of Spain and that will deal with the gastronomic potential of the trout and its fabulous pairing with wines that are currently being produced in the region.