Pago de Vallegarcía closes a major deal, which originated at FENAVIN, with the largest Chinese wine importer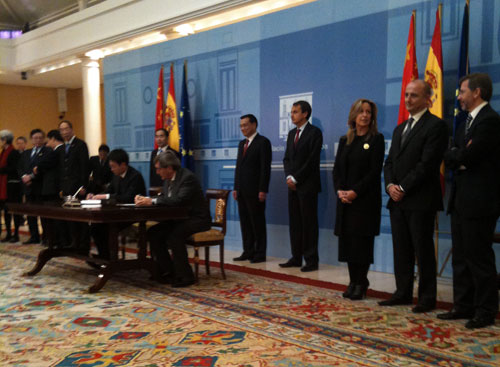 Caption of the moment of the signing of the agreement between the enterpriser Alfonso Cortina, chairman of Pago de Vallegarcía, and the Head of Utrans
The signing of the agreement was carried out during the visit to Spain of the Chinese Deputy Prime Minister, Li Keqiang
11.01.2011 |
The winery Pago de Vallegarcía located in Ciudad Real, presided by the enterpriser Alfonso Cortina, has closed an important deal that saw its light in FENAVIN 2009. The agreement has been made with China's largest wine importer, Utrans, during the recent visit by the Deputy Prime Minister of China, Li Keqiang, to Spain.
Utrans, a company whose turnover has grown in recent years to the level of 9 million dollars a year, came to the last edition of FENAVIN with an agenda full of business contacts provided by both the Fair's organizers and its Business Search Engine. This tool allows buyers and exhibitors to set their business targets in more than 40 countries and prepare their business meetings up to a month beforehand.
The agreement that was signed last week during the partnering event held between the trade mission that came together with the Deputy Prime Minister and a group of approximately fifty top Spanish businesspeople, will allow the winery to export wine for a value of about a million dollars.
The winery's director, Adolfo Hornos, gave a very positive assessment of a business opportunity that saw its light at the last edition of FENAVIN and that after two years' of work, will entail to the export of a total of 80,000 bottles in 2011, which means that a third of its total production will go the Asian giant.
"FENAVIN is different from other fairs because it goes straight to the point"
Hornos, who confirmed that Pago de Vallegarcía will be present at this year's trade show, that will be held between May 10th and 12th, believes that "FENAVIN is different from the other important fairs, because it goes straight to the point." In his own words, "the wineries are aware of that it is not a trade show that is all about exhibiting or image, we know for a fact that business gets done there."
With regards to this, he assures that "the trade goes to the Spanish Wine Fair to buy, and we are there to sell, so it is different from Alimentaria, for example, which is more about public relations." Hornos adds that, "it is a very economic trade show that has become part of our usual trade show agenda, together with the other important fairs, because it pays off to be here."
70% of Pago de Vallegarcía's production, a winery located in the district of Retuerta del Bullaque in the Ciudad Real province, is exported, while 30% is sold on the national market, which continues to decrease. "Although our exportation strategy has not been determined by the crisis, but is an integral part of our business idea," he concludes.
Preparations for FENAVIN 2011 are well underway
The preparations for FENAVIN 2011, which will take place in Ciudad Real from May 10th to 12th, are well advanced; at this time, we are nearing the registration deadline for wineries in Spain.