Florencio Rodríguez: "We want to make our products known in order to promote their consumption"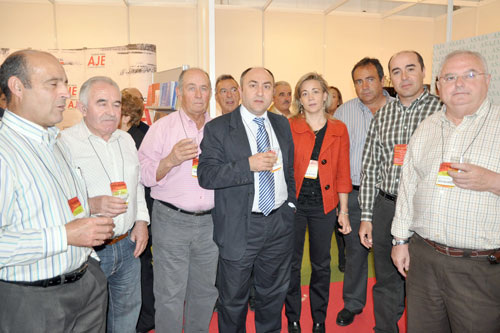 Florencio Rodríguez and Lola Merino, President of AMFAR, along with others present at the event
ASAJA has organized a tasting session of the Vino de la Tierra wines with Spanish fish farming products at FENAVIN
05.05.2009 |
The agrarian organization ASAJA has hosted a tasting session at this fifth edition of FENAVIN, which has taken place under the title of "Pairing of Wine and Spanish Fish Farming", with the assistance of 150 persons, apart from the association's national, regional and provincial Presidents, Pedro Barato, José María Fresneda and Florencio Rodríguez, respectively, and with representatives of the Ciudad Real and Castilla-La Mancha committees. ASAJA has counted with the collaboration of the Organization of Fish Farming Producers for this event, of which its President, Raúl Rodríguez Sáinz has also been present.
As explained by Florencio Rodríguez, with this activity "we want to make our products known in order to promote their consumption", always parting from a series of quality parameters and complying with an adequate guaranty of traceability. "The idea is that consumers can know that we have very good products, which consumed coherently and rationally are very good for our health", he assures.
According to Rodríguez, "we must promote something that is so representative of what we are, as is the case of wine", an initiative that they complete by pairing wines with products of recognized quality. On this occasion the selection of wines has been Yuntero, Yugo, Moralia and Doña Berenguela in white wines, and Torre de Gazate Reserva and Moralia in red wines, accompanied by a rather unusual food product in these type of tasting sessions, the trout, of which 15 different presentations have been enjoyed.